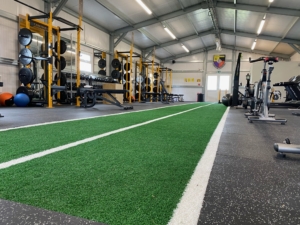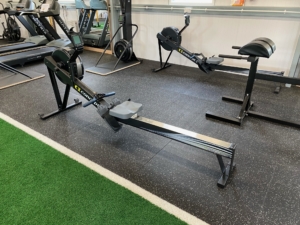 Carryduff GAC Health and Wellbeing Centre
The new facility is open to club membership and boasts a range of training, injury prevention, and rehab facilities and is now open to all adult members within the club (16-18-year-olds can use the gym as a team session under formal supervision).
Will the Health and Wellbeing Centre always be full of teams or senior groups?
Nope! The ethos is for maximum engagement and maximising utilisation for all members. Teams will be able to conduct sessions as a whole going forward but more likely not within the playing calendar.
What equipment is available?
We have a huge selection of cardio equipment. Bikes, treadmills, rowers, ski ergs, as well as strength equipment in squat racks, benches dumbbells and prowler track. We also have a lot of accessories to enhance rehabilitation, warm-up/ activation work and injury prevention.
What are the opening hours?
Currently 06.00am to 00.00
Are there any classes or training sessions to get to know the equipment and training techniques?
An induction is an essential part of becoming a member of the HWBC which will be as comprehensive as the individual desires.
The plan is to work closely with the Wellbeing subcommittee going forward as the membership comes in and looks to run structured externally hosted classes.
How much does it cost?
There are two option – £100 per annum upfront, or £10 pm paid by Direct Debit. Additionally, the security access fob costs £10 as a one-off.
https://www.klubfunder.com/Clubs/Carryduff_GAC/Membership#MembershipOptions
How do I join?
You can go ahead and Klubfunder membership options are already live and being sold.
Is the Health & Wellbeing Centre secure?
Yes – Access is secured by Electronic fob access and 24hour CCTV is in place.
Is the Health & Wellbeing Centre covid safe?
We have a number of protocols and a risk assessment completed to maintain optimal covid safety and mindfulness for all members, covered within the induction.
Who is the main point of contact?
HWBC has its own subcommittee with representatives from senior female and male players.  The key contact is myself though (Sean McGonigle  seanmcg10@googlemail.com)
Get your membership for just £10 per month on Klubfunder.
https://www.klubfunder.com/Clubs/Carryduff%20GAC/Membership#MembershipOptions