As Carryduff GAC prepares to celebrate 50 years of existence, founder member Joe Swail, describes how Carryduff GAC came into being, how its first Senior Football Team fared in its first year and reflects on the progress the Club has made in 50 years.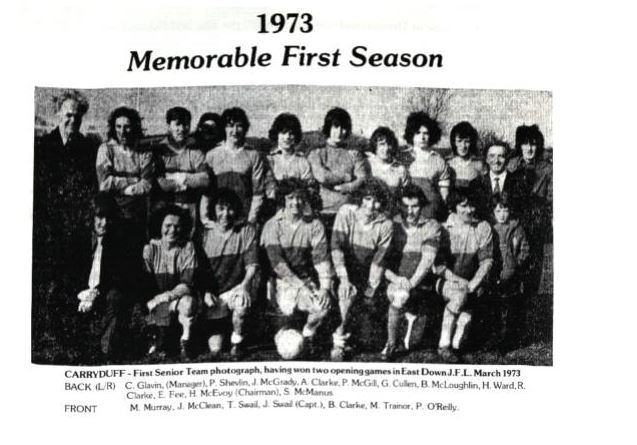 My family, including my brother Tony and myself, came to live in Carryduff in 1956. At that time there were 184 parishioners in the parish of Drumbo & Carryduff, and a total of 45 pupils in St Joseph's Primary School, which had just opened the previous year. (St Ita's didn't open until 2005).  So unsurprisingly there was no tradition of Gaelic football in the area, and as young boys growing up in Carryduff, we had to make do with playing some Gaelic in our back garden with our friends Barney Clarke and Paddy Shevlin.
My own love of Gaelic football had been fostered by my father, Jimmy Swail, bringing Tony and I to watch the great Down teams of the sixties. Our heroes were Sean O'Neill, Paddy Doherty, James and Dan McCartan (little could we have imagined then that we would ever be playing on the same team as Dan!)
In the 1960s therefore, the youth of Carryduff had to look elsewhere if they were interested in playing Gaelic football at club level. A school friend of mine was playing for St John's Belfast, and so I joined them and played at U-16 and minor level. In 1968 Tony and I joined Kilclief, where my father was from, and where we had spent many happy summer holidays. Barney Clarke also joined St John's before transferring to Drumaness to play with his school friend Mickey Murray from Ballynahinch. Though we were playing for different clubs we all harboured a dream of starting a club in our home parish. As teenagers growing up in Carryduff we would often say "wouldn't it be great to have a home pitch". But to be honest at that time it seemed as if it would always just remain a dream. The "troubles" had recently started and we knew we didn't have the numbers in the parish to start a senior team.
A few years later in 1971, Paddy McEvoy, who worked in Purdysburn Hospital, approached fellow parishioner Harry McEvoy, then Chairman of the East Down Board (no relation) with a view to forming an U-16 team in the parish. Through both their efforts a team from Carryduff was entered into the East Down League. I was teaching in Co Sligo at the time and unfortunately was not involved in the early stages of this initiative.
In the summer of 1972, Tony, Barney and I (all being too old for the U-16 team!) started our first serious discussion about forming a senior team. Again the age-old problem of "numbers" was to the fore. But this time it was a bit different. Tony and Barney had by now left boarding school (St McNissi's College, Garron Tower – now St Killian's) and were at QUB, and I had returned from Sligo and was teaching PE in St Malachy's College. After discussing all the possibilities and the potential players, we felt that with an energetic recruitment drive, we could get the necessary numbers.
At that stage we were only aware of seven "home-based" potential Carryduff senior players i.e. Barney, Tony and myself, Paddy Shevlin, Jim McClean, Ray Clarke and Jackie McGrady. My cousins Michael and Aidan McGrenaghan, still boarding at the Tower and living in the Rosetta area also expressed an interest in playing. From Paddy McEvoy and Jackie McGrady we learned of other male nurses based in Purdysburn Hospital (now Knockbracken Healthcare Park) interested in joining- Eugene Fee, Peter O'Reilly, Mickey Trainor and Sean McManus. Our Garron Tower connection yielded Mickey Murray, who was later to transfer from Drumaness, and the following ex-pupils who though not living in Carryduff, were not attached to any other GAA club- Aidan Quiery, Peter McGill, Brian McLoughlin and Paul Flynn. Ray Clarke was playing for the St Malachy's McRory Cup team at the time and from that three of his colleagues emerged – Michael Leonard and Jimmy Dorrian from Newtownards, and Joe McQuillan from Ballyhackamore.  Another welcome recruit from Ballyhackamore was Gerry Cullen, who had been playing with Barney on the Queen's Freshers team. A former colleague of mine at the "Ranch" (St Joseph's Teacher Training College – now St Mary's) Charlie Sweeney also committed to us. No wonder we were called "the League of Nations!".
However we were careful to ensure that every player complied with the relevant eligibility rules applicable at the time. I can recall driving down to the Ardmore Hotel in Newry one Friday evening early in the season for a meeting with hotel-owner TP Murphy (Down county secretary at the time) in order to secure the transfer of Charlie Sweeney. My only concern was "will he be registered in time to play on Sunday?" When TP confirmed he would it certainly made the journey worthwhile.
With the above players, supplemented by upcoming U-16 Carryduff based players such as Liam Glavin, Anthony Clarke, Peter and Kevin Shevlin, Michael McClean, John Leonard and Gerry McNamee we felt we had an initial panel of around 30 players we could call on (U-16s in an emergency!)
Armed with our list of potential players, Barney, Tony and I went to see Harry McEvoy in the autumn of 1972 regarding the official formation of a team. Harry was initially quite surprised at our list, being very aware of the limited numbers in Carryduff. We were however delighted when he enthusiastically agreed to put forward a request to the County Down Board to enter a senior team from Carryduff into the 1973 East Down Junior Football league (equivalent to Division 4 today). A few weeks later Harry gave us the great news that our request had been approved. We could hardly believe it, our dreams were about to come true! An exciting time!
Harry called all those interested to a meeting to form the first Club Committee. At the meeting the following were elected: Chairman- Harry McEvoy, Secretary – Joe Swail, Treasurer – Jim Lundy, Committee members – Colm Glavin, Matt Fitpatrick, Barney Clarke, Tony Swail, Paddy Shevlin, Jim McClean and Mickey Murray.  Colm Glavin, who had played senior football for Dundrum was appointed team manager. In our first year the committee met every Wednesday evening in a classroom mobile attached to St Joseph's PS.
One of the first items on the agenda was the purchase of jerseys. Barney, Tony and I had enjoyed playing for the Garron Tower school team and it gave us all our first experience of playing competitive Gaelic football. With the first team panel now containing nine ex-Tower pupils, we proposed that the colours of the new Carryduff team should be those of the school, purple and gold. Apart from the fact that we liked the colours, a further rationale was they did not clash with any other team in Down, and the jerseys were readily available as they were the colours of the Wexford county team. Our proposal was accepted by the committee and off we set to duly buy the club's first set of purple and gold jerseys from Pat Doyle (Leitrim goalkeeper at the time) in McGlade's, Gresham St. Belfast.
At Jim Lundy's suggestion, it was also agreed at an early meeting that the club's main fundraising effort in our first year would be a "200 club", with entry being £5 (worth around £50 today). Each player/committee member was given a target number of tickets to sell, which resulted in family members being pestered and the doors in Carryduff parish being well and truly knocked.
Colm Glavin had appointed me team captain and trainer, and we were all keen to get started as soon as possible. The team's first training session took place on a soccer pitch in the grounds of Purdysburn Hospital. Thanks to Peter O'Reilly and our players' connection with the hospital, this was kindly given to us free of charge. Though a soccer pitch was obviously not ideal for practice games, the hills surrounding it made an ideal environment for the physical fitness aspect of our training e.g. sprints, shuttles and longer distance runs. My brother Tony and Paddy Shevlin also led some training sessions, and I think they took a secret delight in seeing how many players would be "throwing up" by the end of the night! With our matches usually being held on a Sunday, we trained Tuesdays and Thursdays throughout the season. We were certainly determined we were not going to be beaten due to a lack of fitness.
During the autumn of 1972 we arranged a series of friendlies including one against our neighbours Bredagh, which didn't turn out to be too friendly! I missed that particular game as I was playing my final game for Kilclief that day and winning the Down Division 1 League title for the second time. Although Kilclief were one of the strongest teams in Down at that time and my three cousins were among my teammates there, my heart lay in Carryduff and so I transferred to play for my home club and with the boys I had grown up with.
In early 1973 we received the great news that thanks to Joe Leonard and Harry McEvoy the club had been able to rent a field off the Knockbracken Rd from local parishioner Peter Woods. Preparations immediately began in order to have a pitch ready for the start of the league in March.  Joe Leonard who was in the plumbing business supplied us with steel goal posts. Barney, Tony and Jim McClean had been labouring over the summer holidays, and they put their skills to good use in concreting in the goal posts. Mickey Murray assisted with the carrying of the goalposts and lining out the pitch. We also had a few fitness training sessions on the pitch, and the big slope on it certainly provided a good workout!
A friendly was arranged against Bright in mid-February and there was a great sense of excitement and anticipation around the club at playing our first ever home game. We were blessed with a sunny day, and a surprisingly large crowd turned up for the occasion. I remember seeing people at the match who I never knew had any interest in Gaelic football. I think that was the first time I realised we were more than just a football team, and that the club had the capacity to bring people together and build community. To top it all off we won the match by a few points.
Three days later however we received the sad news that the field had been vandalised, littered with broken glass and the steel goalposts damaged.  Despite this setback, at the committee meeting that evening there was unanimous agreement that we should continue. The playing of the friendlies had built up momentum and a strong team spirit within the club. We accepted that it was unlikely we would be able to play matches in Carryduff in the foreseeable future and that we were going to have to rely on the generosity of other clubs in Down.
In particular we were indebted to Killyleagh GAC, who offered us the use of their facilities for all our home matches. The East Down Board also facilitated this arrangement by ensuring that when Killyleagh had a home fixture we were away, and vice versa. On the rare occasions when Killyleagh was unavailable, Ballykinlar and Teconnaught clubs also helped us out.
Playing all our games "away" placed a burden on us in relation to communication and transport arrangements. As most of the team were students at the time, very few had their own cars. So a transport team comprising Barney, Tony and myself regularly made arrangements for pick-ups at Purdysburn hospital, Belfast city centre, Ballyhackamore and occasionally Newtownards. We all then had to rendezvous at St Joseph's PS to check there were no last-minute cry-offs and that we had a panel of at least 18 before setting off for the game. There was no WhatsApp in those days, so any changes to match time or venue arrangements led to this poor secretary having to listen to complaints from his mother about the size of our phone bill!
In March 1973, the big moment arrived. We played our first competitive match in the East Down Junior Football league. The opposition, our neighbours from down the road, Bredagh II. An uplifting 2-7 to 0-4 victory was the historic result and we were on our way. Narrow victories followed over Leitrim II and Teconnaught.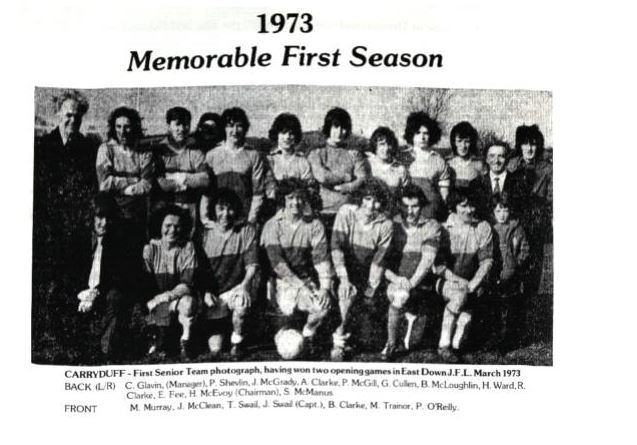 As the season progressed our panel was strengthened with the arrival of a few more players – Jim Morgan (from Attical), Tony Wilson, Hugh Ward and Charlie Hardy. Our undefeated run continued including a "home" win at Ballykinlar by two points against our nearest rivals Drumaroad, despite the best efforts of their captain (and current Carryduff resident) Gerry McEvoy.
After each home win the urge to celebrate meant us stopping off at the Rowallane Inn in Saintfield on our way back from Killyleagh. Away games often led to a visit to the Oak Grill in Castlewellan or to some of the homes back in Carryduff who would put up with us. The many students in the team also attracted a following of young female supporters which no doubt contributed to the general happy atmosphere (and led to a few weddings in later years!)
Throughout the season every Monday morning on my way into work I would call into the shop to buy the Irish News with one thought on my mind-how did Drumaroad do yesterday? (No Down GAA website or Twitter for instant results then!) Eagerly I scanned through the Down results and inevitably it was "Oh no, they won again". Yes, they matched us win for win right throughout the season. So going in to the last game of the season to be played in Drumaroad we were still two points ahead, meaning a defeat for us would leave us both level and needing to play-off for the league decider.
Matt Fitzpatrick, who gave us great publicity in our early years, reported it in the Irish News of October 20th as follows:-
           "HISTORIC ACHIEVEMENT BY CARRYDUFF"
     CARRYDUFF  1-04    DRUMAROAD  1-03
CARRYDUFF, Down's newest club, rounded off a most successful first season in football when they won the East Down J.F.L. at their first attempt with this one point victory over heir closest rivals, Drumaroad, at Drumaroad Park.
It was a historic day for the 'Duff boys for they completed their 24 match league programme undefeated, a feat that cannot be accomplished in the County this year , and has not been achieved in the Mourne County for many years.
They now go forward to the I.F.L. next season and, in so doing, follow in the footsteps of Ardglass and Bredagh who won the J.F.L in their initial year.
THRILLER
The game at Drumaroad was a thriller all the way and finished in a welter of excitement as Carryduff held on to their one point lead. Avery large crowd witnessed a see-saw struggle as first one side and then the other strove for mastery.
Drumaroad held the early advantage and a first half goal gave them the injection they needed and they deservedly led by 1-02 to 0-03 at half-time.
In the second half, Carryduff really sprang into the game with their half-back line of Tony Swail, Gerry Cullen and Michael Murray getting on top of the Drumaroad attack, Joe Swail and Mickey McGrenaghan at midfield exerted their expected supremacy.
Both sides had their chances with Drumaroad missing in the opening half but over the hour Carryduff, who lacked aplace kicker, missed scorable frees. They were missing Jimmy Dorrian and Joe McQuillan for this game and they are the recognised place kickers on the team.
GAINED CONTROL
Carryduff really gained supremacy in the second half and a brilliant goal from wing -forward Jim McClean was the score that set the on their way to victory.
Star of the Carryduff side was centre-half forward Aidan Quiery, whose fielding and distribution played a major part in the victory and, with top scorer Jim McClean, Peter McGill and Raymond Clarke played very hard.
Joe Swail and Mickey McGrenaghan really came into the game at midfield while the complete half-back line of Tony Swail, Gerry Cullen and Michael Murray was the anchor line of the team with Michael Leonard outstanding at full-back.
Drumaroad played right to the finish in an effort to pull the game out of the fire and for a play-off. They were best served by Hugh Bonner (goal), Mickey Lavery, Brendan McEvoy, Rupert Rogan, Gerry McEvoy, Eugene Owens, Damien Clean and Eugene Rogan.
Carryduff Scorers; – J. McClean (1-01), J. Swail, M. McGrenaghan and B. Clarke (0-01) each.
Carryduff's winning Team:-  Brian McLaughlin, Jim Morgan, Michael Leonard, Eugene Fee, Tony Swail, Gerry Cullen, Michael Murray, Joe Swail, Mickey McGrenaghan, Peter McGill, Aidan Quiery , Raymond Clarke, Paddy Shevlin, Bernard Clarke, Jim McClean.  Sub:- Charlie Sweeny for P. Shevlin
Our undefeated run had continued in the Down Junior championship with victories over Ballymartin II, Tullylish II, Annsboro and Kilclief II, bringing us to the final against Newry Shamrocks II. There was great excitement in the parish in the build up to this, with families and supporters busy making purple and gold rosettes, hats and flags.
I remember a few of us going to watch Shamrocks II in their semi-final and not being very impressed. They seemed to be a lot older than us with a few "beer-bellies "on display. We had a very young and fit team with an average age of 20 (I was the oldest at 23!) and we were confident that we would have too much for them. I knew though we would have to watch Tony Hadden, the famous Down All-Ireland winner from the sixties, renowned for his scoring ability with his fist. That was about the only thing I got right! The newspaper report of the match reads:-
"SHAMROCK II's BLOT CARRYDUFF'S RECORD BY LIFTING CO.TITLE
SHAMROCK'S II's  2-12     CARRYDUFF 1-11
Carryduff's great unbeaten record in Down football went west at Newcastle when they were beaten by Shamrocks II's in the final of the Down Junior Football Championship.
In a game that produced a very high standard of football for the junior grade, the youthful, lightly built but talented Carryduff side were given a severe lesson that it takes more than those qualities by Shamrocks side that was experienced to the limit, strong and used all their craft and guile to overcome the newcomers to Down football. This could not be more emphasised by the fact that eight of the Shamrocks points came from their left back, Terry Kane, all from frees, while full back Gerry Doran also pointed a "50".
It was a big experience for Carryduff and after the game former Down star Tony Hadden, who did more than any other Shamrock player to put his side on the victory path, told the down-hearted Carryduff boys that they had a great side but a little more direct football from them and they would really have won the game.
LACKED EXPERIENCE
Herein really lay the difference between the sides. Shamrocks had the craft, played for their fouls, while Carryduff tried to walk the ball into the net, they lacked the physical power to match the winners. They lacked an experienced man like Tony Hadden to direct operations on the field and dictate the play for them.
If Tony Hadden generalled the Shamrocks win he was equalled by full back Gerry Doran for the 'man of the match' award. The big and experience full-back was the real saviour of his side in the second half when his side faced the very strong breeze. His fielding was perfect and his long clearances turned defence into attack time and time again.
Any chance Carryduff had of ending their first season in Down football on a high note was lost mid-way through the second half when their star midfielder Joe Swail received a leg injury. Until then he was dictating play in this area but thereafter he was never really able to make his presence felt. Their chances were really snuffed five minutes into the second half when winger Jim McClean (Carryduff's star forward) hobbled to the side-line with a recurrence of muscle trouble which made him doubtful before the game.
DESERVING WINNERS
But Shamrocks deserved their win. On the day they were the better side. Indeed they played so well that it drew a remark from one of the Clann-na-Gael players that they must have a terrific senior side if this was their second string.
Carryduff, facing a very strong breeze, started well and inside two minutes they were a goal ahead when Jim McClean to a pass from Joe McQuillan to send to the net. Shamrocks fought back and Terry Kane pointed a free and midfielder Vincent Lynn had another, while at the end of the opening quarter a bad mistake by Carryduff let in Ray Campbell for a goal to put them ahead.
Carryduff fought back and Aidan Quiery pointed and Joe Swail , after a good solo run sent over the equaliser. Gerry Doran pointed a Shamrocks "50" to give his side the lead again, and then came the real killer blow by Tony Hadden. A side-line ball was floated over by Michael Keenan and Hadden, although he looked to be well inside the "square", punched the ball to the net.
The score rattled the Carryduff boys, and with Joe Swail playing great football at midfield, they lifted themselves and Swail sent over the bar. Tony Hadden had a Shamrocks point and Terry Kane converted two frees to leave the half-time score  Shamrocks 2-06  Carryduff 1-03.
FOUR POINTS IN IT
Terry Kane pointed a Shamrocks free shortly after the restart but Aidan Quiery had a Carryduff point and when Peter McGill added another, there were only four points between the sides.
Using all their experience, Shamrocks carried the ball through and again it was Kane with a free who got another point. The losers put in a great effort now and Michael Murray had a long range point while Jimmy Dorrian blasted the ball over the bar when he looked certain to put it in the back of the net.
With only two points separating the teams now it looked like being a terrific finish. Tony Hadden moved out to around midfield and brought his side back into the game again. Twice Kane pointed frees before the losers again fought back with points from Joe McQuillan and Peter McGill.
Shamrocks were using their experience now and it was Terry Kane with two more points from frees who increased their lead while in the dying stages Jimmy Dorrian and Michael Keenan swapped two points to finish the scoring.
DORAN STARS
Gerry Doran at full-back was the star of the Shamrocks defence with his safe fielding and long clearances and was ably assisted by Brendan Loughlin and Noel Keenan. Vincent Lynn put in a great hour at midfield while in attack the best work came from Tony Hadden and Michael Keenan with left back Terry Kane becoming the scorer in chief for his side with frees.
Michael Leonard, Eugene Fee, Gerry Cullen and Michael Murray were very strong in the Carryduff defence with Joe Swail fading after his first half injury at midfield.
In an attack that over-played the ball the best work came from Jim McClean, Jimmy Dorrian and Aidan Quiery.
Shamrocks Scorers:- T. Hadden (1-01), R. Campbell (1-00), T. Kane (0-08), V. Lynn, G. Dorrian, M. Keenan (0-01) each
Carryduff Scorers:- J. McClean (1-00), P. McGill, J. Dorrian, A. Quiery , J. Swail (0-02) each J. McQuillan, M. Murray and M. McGrenaghan (0-01) each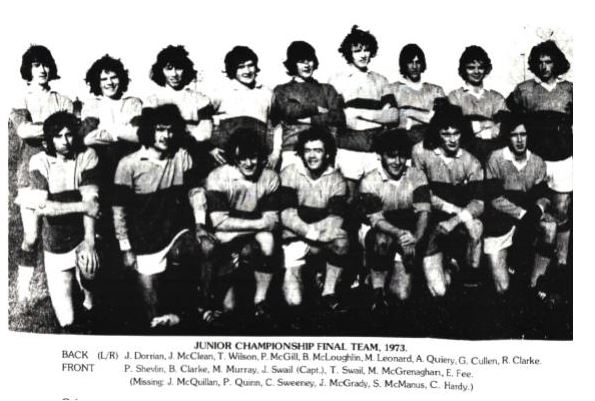 So a very disappointing end to what had been a great season. I suppose we paid the price of over-confidence, exemplified by my brother Tony recalling Paddy Proctor (our first club referee) producing champagne from the back of his car after the match. "Ah well boys, sure we'd better drink it anyway." Yes, a lesson learnt, never under-estimate the value of experience.
Overall however our first season had far exceeded the expectations we had when we started out. To win the league, being undefeated in 24 matches, and reach the final of the Junior Championship was a great achievement. We all enjoyed celebrating a memorable year at the club's first annual dinner dance in the Drumkeen Hotel in January 1974, where I was presented with the East Down Junior Football League cup, the club's first major trophy. There was a feeling that the club was established on a firm footing with a good young team and a very hard-working and efficient committee. It gave us all great hope for the future.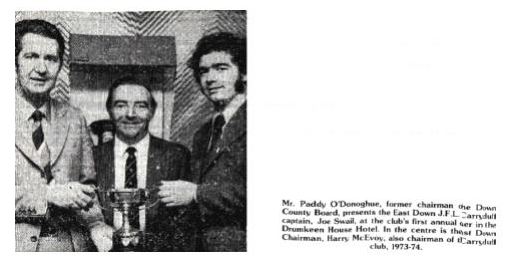 Other players who featured in the early friendlies (not included in the two team photographs) were: Patsy McClean, Paddy Sweeney, Paddy Proctor, Frank McAnulty, "Hammy" Nelson, Tom Breslin, Paul Dick, Kieran Harte, Dessie McAuley, Donal McDaniel and Robert McLaughlin.
Epilogue
When I reflect on where the club is now compared to when we started 50 years ago, only one word comes to mind. Unbelievable! From those early days there has been a systematic development down through the years with such significant milestones as: the introduction of seconds and thirds senior teams, Scór, handball, Ladies football, hurling, underage teams at all levels, coaching, Irish language, culture and traditional music, and of course the acquisition and development of the magnificent Páirc Aodha Dhuibh and all its facilities (nomads no more!).  On the playing field, many honours have come our way across all levels and codes, with the male senior team now firmly established in Division 1 after finishing runners-up in the 2020 Down Senior Championship.
As the size of the Drumbo & Carryduff parish has increased over the years, the diverse range of activities available for both sexes/all ages demonstrate how well the club has responded to meeting the needs of the growing local community.  The club provides the opportunity for all to come together, to meet new people, to learn, to discover their talents and to develop their skills.
All this progress and development would not have been possible without the commitment, dedication and hard work of so many people down through the years. They have all played their part in making this the great club it is today, and it is important in this our 50th anniversary year that all those contributions are recognised. In particular I would just like to briefly mention three people who are no longer with us, but who played a major role during the time I was actively involved in the club.
Our first chairman Harry McEvoy, a true gentleman, who matched our youthful enthusiasm with the leadership, wisdom and guidance that was needed at the time. Neil McNabb, who occupied many positions on the club committee (including Chairman) throughout the 1970s/80s, and who spent endless hours working towards his dream of acquiring a home pitch for Carryduff GAC. Jim Lundy, our first treasurer – not a glamorous role but an essential one which Jim carried out with meticulous efficiency and a good sense of humour. I am sure they are all looking down with pride now at where we are today. Well done good and faithful servants. We will not forget you.  A Thiarna dean trócaire ar a n-anamacha.