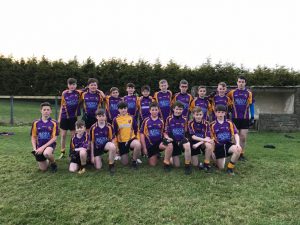 U14 Boys Up And Running
The East Down U14 Boys football leagues got underway this week, although the squad's preparations have been longer in the making. The boys have been back in training since the first week in February, working hard, more often than not in inclement weather conditions. They've also played a series of challenge games where the coaches were able to try players in different positions as well as working on different aspects of the game. The hard work and experience can only benefit the squad in the longer term.
The league action saw the Division Two side first into action, with a trip to Saul. This turned out to be a cracking game of football. After an early exchange of goals, Carryduff really clicked into gear, playing a brand of fast, attacking football as they put a further four majors on the scoreboard. At times the team were irresistible; midfield and half forwards moving the ball beautifully as they cut through their hosts and built a formidable lead. Saul had some fine footballers of their own, but the Duff defence was in top form, often first to the ball and working hard to restrict the space. Saul did add another goal of their own just before the break, but the teams turned round with Carryduff ahead on a score of 5-2 to 2-2.
It was always going to be a challenge to maintain the tempo after the break, particularly with so many players coming to terms with playing on a full size pitch. Tiring legs notwithstanding, both teams continued to go at it and while the scores weren't as abundant as in the first half, the competition remained fierce. The Saul free taker impressively stroked over some placed balls from distance, but a tight Duff defence meant that the home side were always kept at arm's length as Carryduff ran out seven point winners with the final score of Saul 3-6 to Carryduff 6-4.
This was a particularly meritorious victory for a young Carryduff team, almost all of the lads in their first year of U14 football. There's still plenty of fine tuning to do and doubtless they'll face some tough challenges at this level, but they showed enough to suggest that all the hard work on the training pitch is paying dividends.
On Wednesday, the Carryduff A side travelled to Kilcoo for their opening game in Division One. Confidence was high on the back of last year's U13 championship success, but nobody was taking anything for granted against the always formidable home side.
It looked like being a tough evening for the Duff as Kilcoo more than matched them in the opening stages and led by 3 points to 2 after ten minutes. Carryduff edged back in front with a couple of points of their own before two goals in a minute around the mid-way point of the half saw them ease clear. The Duff hit a real purple patch, putting over some lovely points as they hit 3-7 without reply to turn around leading by 3-10 to 0-4.
The second half followed a similar pattern, with Carryduff moving the ball well and hitting some fine scores. To their credit, Kilcoo played some decent stuff of their own, their midfield sector performing particularly well, but for all their hard work, they struggled to break through the Duff defensive rearguard and found themselves vulnerable as Carryduff counter attacked at pace. The final whistle sounded with a final score of Kilcoo 1-4 to Carryduff 7-15.
This was a solid start to the league campaign for Carryduff. All of their more experienced players showed up well, but equally pleasing was the performance of the younger members of the squad, all of whom played their part and looked comfortable at this level of football.
Both sides are in action again in Week Two. In Division One, the A team face a difficult trip to face Bryansford who they defeated in the U13 final last year. The Newcastle men will be determined to lay down a marker for the season and Carryduff will need to be on top form if they're to come out on top. In Division Two, Carryduff travel to face a Teconnaught side against whom they've had some great encounters through the levels over recent years. This promises to be another exciting game.
Carryduff v Saul: Fergal McNicholl, Oran McMeel, Joseph Doherty, Shea Guinness, Rory Maguire, Oisin McGurk, Rory Hughes, Conleth McCormick, Lorcan O'Hagan, Oran Donaldson, Cian Duffy, Callum McLeod, Lorcan O'Connor, Eoin Blaney, Eunan O'Hare, Ronan Donaldson, Eoin Donnelly, Odhrán Doherty.
Carryduff v Kilcoo: Patrick MacFarlane, Ryan Sherry, Ruairi McCann, Oran Teague, Oisin McGurk, Lorcan Swail, Eoin Donnelly, Rory Crosbie, Jamie Cunningham, Declan McArdle, Ciaran McReynolds, Cian Duffy, Tom McCarroll, Eoghan O'Connor, Oran Donaldson, Lorcan O'Hagan, James O'Donnell.