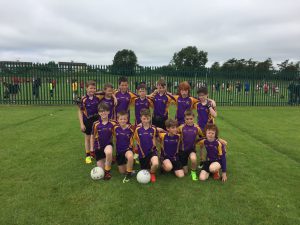 19th June 2017  Entertaining Fare From the U12 Boys 
There's no rest for the U12 Boys squad who've continued with their busy summer of football, playing two league games and attending the Clann na Banna tournament over the past weekend.
On Saturday, a 13 man squad travelled to Banbridge for their tournament and the boys acquitted themselves well against good quality opposition. It was something of a test of endurance for the team who played six games in baking hot conditions. The boys reached the Plate semi-final, losing out to St Mary's Aghagallon who went on to win the final against Ballyholland. There were a number of standout performances, but everyone played their part. Some players were tried out in different positions and acquitted themselves particularly well, while it was a good experience for others who have not played much tournament football. After over five hours of roasting in the sun, the players involved no doubt slept well on Saturday night.
In terms of league action, it was the Division Two team who again grabbed the headlines this week, backing up their thrilling win over Bredagh with another exciting victory, this time against Teconnaught.
Just as last week, this was an epic, high scoring affair, with Carryduff emerging triumphant by 2 points. The previous encounter between the sides had seen Teconnaught emerge as nine point victors and it was therefore particularly pleasing for the Duff boys to turn that around with a gritty performance. This was a well contested affair between two evenly matched teams; exactly the sort of game that coaches love as it really helps to hone the players' skills.
The sides were level at half time, with Teconnaught's three goals keeping them in touch, before Carryduff pulled away after the break and sought to build a healthy lead. As the game ebbed and flowed, the home side got on the front foot and after initially wasting a series of good scoring opportunities, they eventually began to find their range and put the final outcome back in the melting pot. Carryduff had to stand firm and hold their nerve, which they did, as they popped over the last couple of scores to secure the victory on a score line of Teconnaught 5-5 to Carryduff's 4-10.
In goals, Owen O'Neill did well with his kick outs in the first half before moving out the field with first half full back James O'Donnell taking over between the posts. Rory Hughes started at full back before switching to mark Teconnaught's biggest forward. He held his man to one point and started to influence the game himself, winning some good breaking ball and starting attacks.
Jack McGrath put in a good shift at half back, tackling well and launching attacks with some powerful support play. Alongside him, Luke Morris tackled like a terrier and won a lot of dirty ball. Cillian Teague started on the half forward line, but really found his feet once shifted to the half back line. In the second half he was flawless under the high ball, cleaning up everything and showing great character to bounce back to his feet after taking a heavy knock.
Carryduff were strong in the midfield sector. David Morrissey covered a lot of ground and was always keen to get on the ball. He drove his team forward and slotted a great point in the first period.  Fellow midfielder Dara Cunningham also got forward to bag himself a couple of goals, while at times he sat in to cover Morrissey's forward runs.
On the half forward line, Niall O'Neill was a good option for the ball out of defence and he battled hard all day and notched himself a couple of tidy points.  Cameron McClure was an important link man between the midfield and forwards, showing great strength and determination.  He also forced a number of mistakes and turnovers from the home side. Sean McCrory started up front, but moved to the back line after the break. He showed well for the ball and battled hard throughout.
Further up the field, Ronan Donaldson was in fine form at full forward. He finished with six points to his name and was accurate and efficient throughout. Eoin Vaugh kept his man busy and cleverly pulled him away from the goals to create space for the midfielders to drive through. Eoin McKernan also did well in the full forward line, showing well in front of his man.
Most impressive was the spirit shown by the team in trying conditions. They didn't wilt under pressure and dug in when the tide turned against them, before nudging to victory late on after a very entertaining game of football.
In Division One, Carryduff hosted Bryansford on Monday evening. When the teams met earlier in the season, Carryduff had suffered a heavy defeat and the coaching team were therefore looking to see signs of improvement, as had been evident in other recent games.
This was a really competitive game with both sides finding it hard to make a breakthrough in the early stages. However, when Bryansford got two goals around the midpoint in the half, it gave them a cushion that they would never relinquish. The visitors passed and moved well and hit some nice scores, while at the other end, the Carryduff forwards were finding it hard to get space against a well drilled visiting defence. When they did break through they found the Bryansford keeper in inspired form as he pulled off three stunning saves before the break. Carryduff's only goal was a Lorcan O'Connor effort as they turned round eight points in arrears.
The second period was also slow to get started with few scores in the early stages. Carryduff began to get more of a grip of things around midfield with Declan McArdle and Ryan Sherry showing up well and a fine Sherry goal helped reduce the deficit. The game was getting increasingly stretched as more opportunities presented themselves at both ends. However, as Bryansford began to miss a number of very presentable chances, Carryduff had found their accuracy and goals from O'Connor and Oran Donaldson gave the home side hope. The visitors were, however, always able to get a point or two to keep their hosts at arm's length and emerged victorious on a score line of Carryduff 4-7 Bryansford 5-10.
This was the third consecutive Division One game where Carryduff have shown a tangible improvement of more than 20 points from their first meeting with the same opponents. That level of progression won't always be possible, but again there were plenty of positives to take from the match. There's also still plenty to work on but such games against high quality opposition can only be good for the development of the players.
Carryduff Squad for Clann na Banna Tournament: Lorcan O'Hagan, James O'Donnell, Rory Hughes, Luke Morris, Cameron McClure, Eunan O'Hare, Niall O'Neill, Matthew Loftus, Eoin Blaney, Jack McGrath, Jacob Dixon, Oisin McGurk, Declan McArdle.
Carryduff B v Teconnaught: Owen O'Neill, James O'Donnell, Rory Hughes, Luke Morris, Jack McGrath, Cillian Teague, Cameron McClure, David Morrissey, Dara Cunningham, Niall O'Neill, Sean McCrory, Ronan Donaldson, Eoin Vaugh, Eoin McKernan
Carryduff A V Bryansford: Cameron McClure, Matthew Tunney, Lorcan O'Hagan, Jacob Dixon, Joseph Doherty, Oran McMeel, Ryan Sherry, Cian Duffy, Rory Hughes, Declan McArdle, Oisin McGurk, Dara Cunningham, Oran Donaldson, Lorcan O'Connor, Eoin Blaney, Liam Blaney, Niall O'Neill, James O'Donnell.