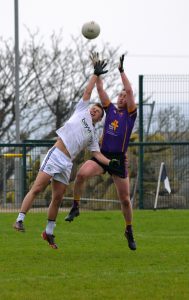 Carryduff claim first League points in Ballymartin
Having suffered successive defeats to Bredagh and Glenn, Carryduff picked up their first Division 2 League points in a blustery Ballymartin on Sunday afternoon.
Playing against a stiff cross-field breeze in the first half, a resolute Carryduff defence stuck to the task and managed to apply enough pressure to withstand the Ballymartin surges. Ross Cunningham converted a free for Ballymartin in the opening minute but in their flurry of attacks that followed, pressure from Carryduff's defence saw Cunningham and Noel Kerr forced to kick wide.
Seven minutes in Joe McFlynn kicked Carryduff's opening score to level the game. Michael McGrath kicked wide (8th) before Ross Cunningham converted his second dead ball kick (10th). Ronan Lawlor levelled the game (free, 13th). Noel Kerr kicked Ballymartin's third point (15th) and a minute later Ballymartin were awarded a penalty which found the back of the Carryduff net despite 'keeper Ross's best efforts.
Carryduff settled into their task and managed to hold Ballymartin scoreless for the remainder of the first half. Jonny Henry's 19th minute point reduced the deficit to three and Carryduff had further efforts wide from Henry (25th) and McGrath (28th) as they continued to apply the pressure for the remainder of the half.
The second half was simply one of Carryduff dominance. Jonny Henry powered through resolutely to drive to the Ballymartin net in the opening minute of the half to suddenly level the gameand Ronan Lawlor (free 32nd) and Sean McGonigle (35th) added points to provide Carryduff a cushion. Despite a wide from John McGeough (36th) Carryduff had a 'purple patch' when Sean McGonigle rifled two points (37th and 38th) and Darren Ross converted a 45metre free( 39th) before Ronan Lawlor (40th) pointed from play.
Sean Hughes had Clipped a point (34th) for Ballymartin but this was to be their only score for the entire second half. As Ballymartin tried desperately to manufacture attacks in the middle third of the half, Carryduff stood resolute and an impressive work-rate saw them break down a succession of Ballymartin attacks. The final third was all about Carryduff as six different players added to the scoresheet. Owen McCabe pointed in the 49th minute and Sean McGonigle added his fourth in the 50th minute.
Keeper Darren Ross converted a further 45metre free (54th) and Josh Connery (56th) and Joe McFlynn (58th) added the final scores of the game to see Carryduff run out 1-15 to 1-04 winners.
A more industrious and committed performance saw Carryduff deliver some quality football and made for some more positive analysis on the journey back to Carryduff.
Ballymartin 1-04 Carryduff 1-15
The Carryduff team was; – Darren Ross, Neill McGowan, Conor Cassidy, Conor McCullough, Michael McGrath, Josh Connery, John McGeough, Donal McKeever, Jonny Henry, Owen McCabe, Joe McFlynn, Ronan Lawlor, Daniel McCartan, Michael Ennis, Sean McGonigle.
Substitutes;- Ciarn Conway (for D McCArtan, 42), Ronan McLaughlin (for M Ennis, 54), Conor Beatty (for D McKeever, 59