At the start of May our U15 Ladies won the County Down Feile in style, unbeaten in all games throughout the day. In addition to being Down Feile Champions, the girls now get the honour of being the county's representatives at the All Ireland Feile, being held in Kildare on 2nd July.
LAST GOAL SWEEPSTAKE – £10 per ticket – £100 Prize
The Feile group are keen to generate funds to cover travelling expenses etc. and is organising a sweepstake for this weekend's Senior Mens' ULSTER FINAL between Donegal Vs. Derry.
The winner is the person(s) who has the number corresponding to the minute in which the LAST goal is scored
Tickets can be purchased online at Klubfunder
You'll be notified of your randomly selected minute/s before throw in by email.
Each ticket costs £10 (you can buy as many tickets as you like)
The prize is £100
The game will be televised live on RTE & BBC. on Sunday, 29th May 2022 from Clones. Throw in at 4pm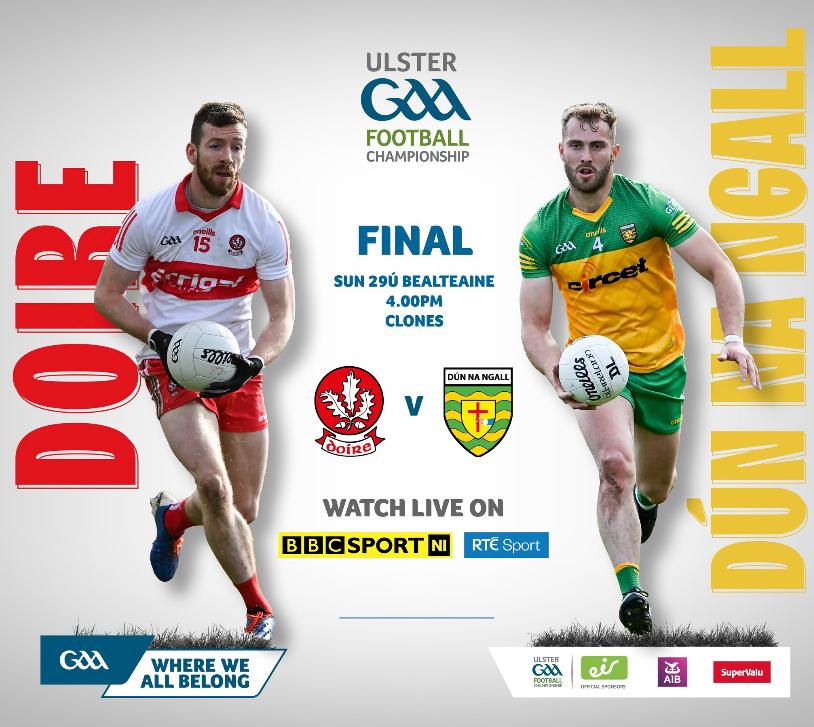 Other Terms & Conditions
In the event of:
NO goals scored, or
If fewer than 72 tickets are bought and the winning minute has no ticket associated with it all participants will be entered into an open draw for the £100 prize.
Where there are more than 72 entrants, more than one person may be allocated a particular minute. Where this is the winning minute, the prize will be split equally, with a minimum of £50 to each winner.
Random Number Allocation
Entrants will be allocated a randomly assigned number between 1-72, corresponding to 70 mins of normal time, plus added time at the end of each half. Minute 1 is 0-60 seconds, etc. Numbers 1-35 represent the minutes of the first half and minutes 36-70 the second half. Number 71 represents all additional time at the end of the first half and 72 all additional time at the end of the second half. Extra time is not counted. The timing will be taken from the coverage on RTE.
Ticket sales will close at 10pm on Saturday 28th May 2022