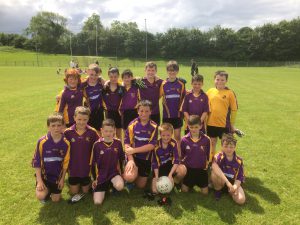 11th June 2017
U12 Boys Derby Drama
With Saul conceding the points to Carryduff A in Division One of the East Down league, all eyes turned to the local derby in Division Two as Carryduff hosted Bredagh. This proved to be an entertaining affair with the Duff boys overturning a big deficit to secure victory after a dramatic second half at Páirc Aodha Dhuibh.
The early stages of the game were nip and tuck with no indication of what was to follow. With scores hard to come by, the sides traded points before Niall O'Neill's goal edged Carryduff ahead. However, Bredagh were beginning to gain a stranglehold around midfield and with a strong wind behind them, they penned Carryduff back. The visitors went on a scoring spree in the latter stages of the half, hitting 3-4 in quick succession, as they took a firm grip on the game. The solitary home reply to this onslaught was a goal from Liam Blaney as Bredagh led by 9 points at the break.  Carryduff took to the field for the second half, no doubt with words of encouragement from coaches Hughes and McKernan ringing in their ears. While they will surely have demanded a reaction from their charges, it wasn't immediately forthcoming. Instead it was more of the same from the visitors, with runners from deep not being picked up and Bredagh hit a further 2-1 without reply to lead by 16 points with less than 10 minutes gone in the half. Incredibly, they wouldn't score again for the remainder of the game.
Nonetheless, when Matthew Loftus poached a goal for Carryduff it looked like little more than a consolation and although the Duff boys were improving, they were finding it hard to break through a resolute Bredagh defence. But the tide was turning. With Lorcan O'Connor introduced at midfield at half time, he wasn't his normal scoring threat, but his running from deep posed different questions of the visiting midfield. It also freed up space for Dara Cunningham, unusually quiet in the first period, but now back to his rampaging best. Goals from Loftus and Cunningham made it a 6 point game and momentum was well and truly with the home side.
The Duff were on the front foot all over the pitch and as Bredagh wilted in the final 10 minutes, Carryduff were ruthless in front of goal. Niall O'Neill and Liam Blaney hit further majors before Carryduff edged a point in front, with the score of the game. It came as a result of a terrific move up the pitch, with quick passing and great movement, the ball dispatched to the net by the increasingly influential Eoin Blaney.
Further goals from Cunningham and Loftus added the gloss as Carryduff secured a quite incredible victory on a scoreline of Carryduff 9-6 Bredagh 5-10.
It was something of a mixed bag for the home side. Listless and outplayed at times, they nonetheless showed great character to fight back when it would have been all too easy for heads to go down. In goal, Matthew Tunney was resolute under the high ball. In front of him, Lorcan O'Hagan required all his physicality to subdue Shea Scullion and held the big man scoreless. Alongside him, Jude Dixon was tenacious in the tackle and won plenty of ball. The half backs Rory Hughes, Luke Morris and Eunan O'Hare won plenty of ball and at times moved it well; Hughes and O'Hare the source of a number of counter attacks.
The midfield battle was particularly competitive with Bredagh strong in this area and both sides having periods of domination. Lorcan O'Connor and Eoin Blaney offered something different when introduced to this sector, and took some pressure off Liam Blaney and Dara Cunningham, but all had spells of quality.
Cameron McClure worked hard and won plenty of ball while Finn Cunningham showed some nice touches, one ball to switch play particularly pleasing for his coaches. Also on the half forward line there was a great contest between Niall O'Neill and Conor Savage. The two lads were well matched, but O'Neill can be pleased with his haul of 2-1 as well as executing a superb diving block when his team were under pressure in the first half. Further forward, Matthew Loftus had a good battle with his man, coming away with three goals, while Oisin O'Hare was lively and notched a deserved point.
Ultimately, games are won on the back of hard work and while there's no doubt the wind played a factor in the twists and turns of this contest, Carryduff got on top when they upped their workrate and got on the front foot. This changed the whole momentum of the game and built the basis for the improbable finale. Credit to both sides who contributed to such an exciting game. Both sets of coaches cut frustrated figures at different times in the game, and there's plenty to work on for both sides, but it was great entertainment for all those in attendance.
Meanwhile, Carryduff sent a mixed squad to play a challenge game in Saul and this proved to be a worthwhile exercise with a good overall performance from the team.
Carryduff B v Bredagh: Matthew Tunney, Lorcan O'Hagan, Jude Dixon, Rory Hughes, Luke Morris, Cameron McClure, Dara Cunningham, Liam Blaney, Eunan O'Hare, Finn Cunningham, Niall O'Neill, Matthew Loftus, Eoin Blaney, Lorcan O'Connor, Oisin O'Hare. Carryduff V Saul: Odhran Doherty, Sean McCrory, Jack McGrath, Max O'Rawe, Owen O'Neill, Oran McMeel, Ryan Sherry, Cian Duffy, Declan McArdle, Oisin McGurk, Oran Donaldson, Jacob Dixon, Ronan Donaldson, Joseph Doherty.