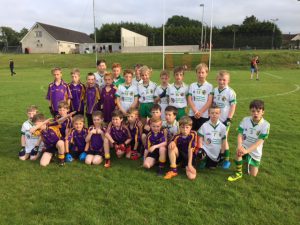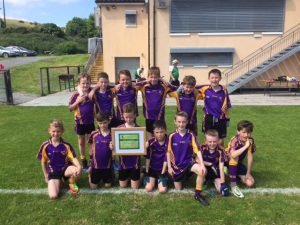 It was a busy weekend for the Carryduff U10.5 boys footballers with a game against a very strong Darragh Cross team preceding the senior fixture on Friday night followed by an energy sapping day at the Downpatrick RGU tournament on Saturday 14th June.

In what was a scorching day, the boys were drawn in a very competitive group with St. Brigids, St.Johns, Bryansford and Con Magees. The boys gave a great account of themselves with a few battling performances against some excellent teams!

The boys made it all the way to the Plate Final, defeating Downpatrick RGU in the quarter final, Armagh Harps in the semi final but losing narrowly to an excellent Glenravel side in the final. 

Darragh Diamond was outstanding all day, playing in midfield for the first few games and showing great determination and effort. But it was his performances in nets that were exceptional! He was flawless under the high ball, distributing the ball from kick outs with great accuracy and he made some fantastic saves to help the team go all the way to the plate final! 

Eoin O'Connor, Joseph Nelson, Rossa Mulhern and Danny Knight battled hard all day in full back and half back positions against some quality opposition. Their tenacity and determination was there for all to see. 

Finn Cunningham, Patrick Hyland and Peter Murchan had excellent games in midfield, driving forward at every opportunity and scoring some lovely points. 

Ciaran O'Neill and Oisin O'Hare had tremendous games at half forward, scoring some great points both from play and from free kicks. Oisin was outstanding in the quarter and semi finals scoring a number of really well taken points to ensure the boys reached the final. 

Jack McDowell and JP Hegarty played most of the day at full forward and once again scored some great points from play both in the group stages and knock out stages. 

Eoin McKernan battled hard in half forward and full forward and was a great target man, often laying the ball off for Jack, Oisin and JP to put it over the bar. 

A special mention must go to our player of the tournament, Cillian Whitford who was absolutely outstanding all day. His determination to win the ball, his ability to drive forward and solo past players, his defensive blocking and all round game was absolutely fantastic. And he scored some lovely points throughout the tournament!!!! 

Well done boys! The coaches are super proud of your hard work and efforts !