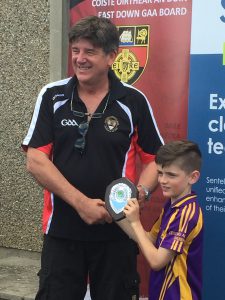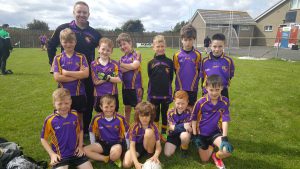 Sentel East Down P5/6 Super Blitz – Saturday 24th June 2017
The inaugural East Down P5/6 Super Blitz took place at a breezy Ardglass GFC last Saturday 24th June. Twenty teams fielded with four groups of five teams. The top three in each group qualifying for the cup, shield and plate competitions respectively.
The Carryduff A team made up of P6s were grouped with Loughinisland, St Pauls, Dromara and Aughlisnafin. After not conceding in the first game the team went unbeaten and topped their group qualifying into the Cup semi final. After a hard fought battle we overcame Saul in the semi and were pitched against our local rivals, Bredagh in the final.  Bredagh won the toss and decided to play with the strong wind. The boys played fantastic in this period holding Bredagh scoreless. We then kicked into overdrive up front and went on to win the final without conceding a score!
The Carryduff B Team mostly made up of P5s were grouped against Bredagh, Kilclief, St Johns and RGU Downpatrick. The boys battled for a scoreless draw in the first game against a much stronger and older Bredagh team. Kilclief squeezed past us by a point with a fortunate goal in the last minute. The boys turned things around in the final two games with two wins to secure third place in the group and qualify for the plate competition. After getting through a bruising encounter with a fast flowing Bryansford team in the semi the boys were outdone in the final by Darragh Cross. The game ended level and was ultimately decided by the toss of a coin to decide who played with the strong breeze on a golden score format. Unfortunately, Darragh Cross won the toss and scored first to claim the title.
It was great to see the boys development being applied. Today they worked on being in front of their opposition player, getting into position quickly, attacking the ball rather than standing waiting on it and playing as a team rather than a group of individuals. All 11 players in each team bought into the concept and applied it. There was great play driving forward in possession and some superb defending when not in possession. Everyone played their part, working hard for each other. The development will continue at training, with the boys knowing that they need to master getting control of the ball first time, but today was a great step in the right direction. Now that we are the best in East Down, they can target being the best in all of Down. This may take time but it will definitely take continued practice and hardwork.
You did the club, your family and yourselves proud last Saturday. As coaches we can ask no more than for you to give it your all. Everyone to a man did this! Well done. We hope you all enjoyed it and you continue to play with style and quality – the Carryduff way.
Carryduff A – Cup Winners, Oisin O'Hare (Capt), David Morrisey, Cillian teague, Ronan Kelly, Peter Murchan, Cillian Whitford, Darragh Diamond, Patrick Hyland, Conor Boyle, Finn Cunningham, Jude Dixon.
Carryduff B – Plate Runners Up, JP Hegarty (Capt), Dominik Krusche, Ciaran O'Neill, Eoin O'Connor, Danny Knight, Joseph Nelson, Rossa Mulhern, Oscar Illand, Owen McHugh, Rory O'Donnell, Cain Mornin.