Carryduff GAC is delighted to announce that our plans for the development of club facilities at Páirc Aodha Dhuibh have received a major boost following a significant funding commitment from local business leader Suzanne and Eastwood Group.
The significant six-figure cash injection, up to £200,000, is expected to become available to the club within weeks, enabling the club to reprioritise the club development plan created in recent years. Newly appointed Club Chairperson Kate Connery announced the donation at her formative executive meeting within the last week.
Kate commented "This truly is a gift. A wonderful gift for all of our club community and those around the local area. The support shown by Suzanne and the Eastwood family is astounding. Especially as we exit this awful pandemic which has created so much disruption in 2020."
The club has now revised plans for the development plan to accelerate and include:
Best in class equipment within the new Health & Wellbeing centre
A 1200 metre community walkway and fitness trails meandering around the club grounds
New access for those with disabilities and parents with prams
Much needed drainage for pitch 2 and development of a 3rd pitch
Mains power upgrade for the additional facilities and floodlighting
A handball wall
A children's playground facility
Floral planting area for local schools and community groups
Upgrade of the community social hub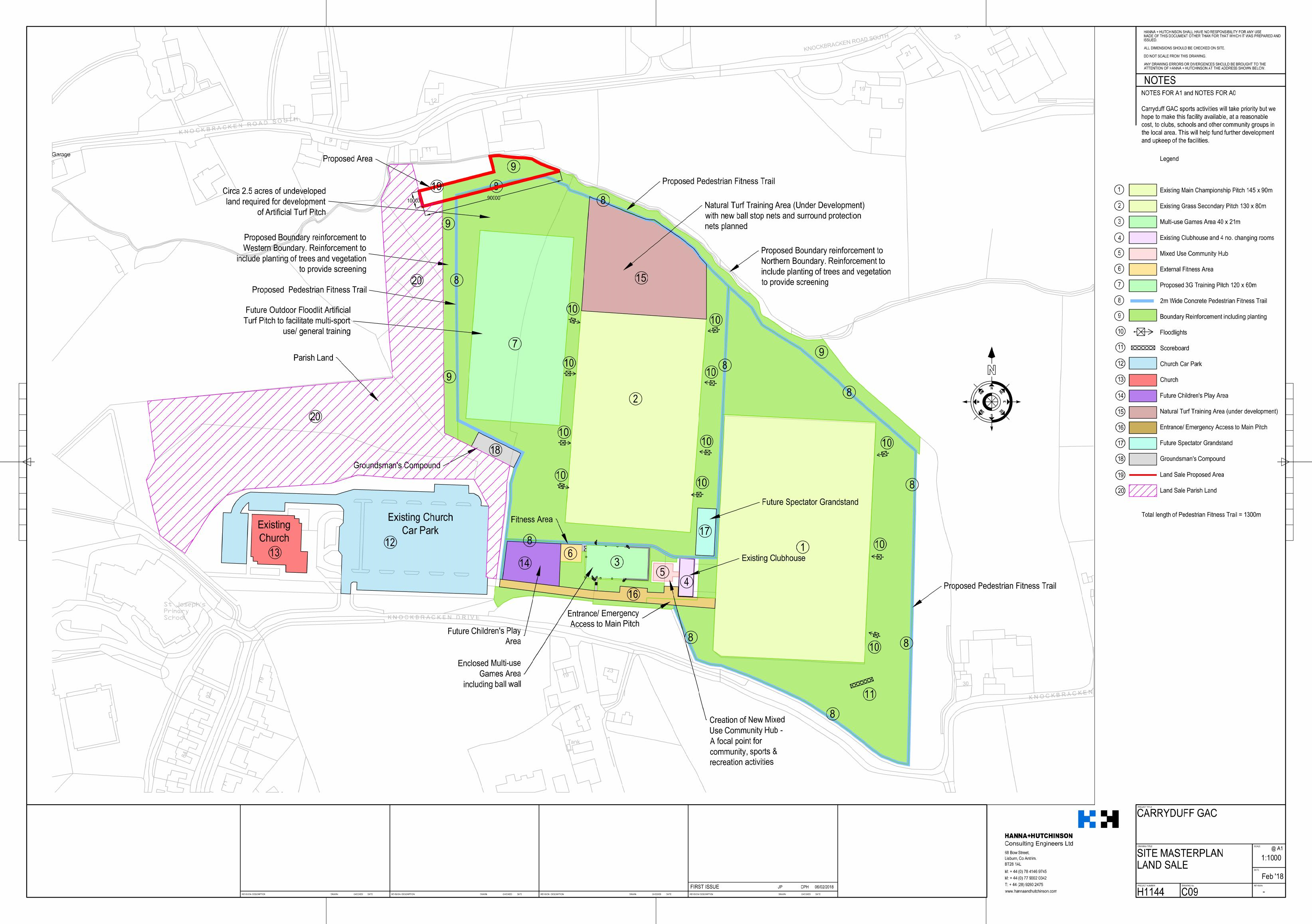 Whilst this initial donation came as a huge and welcome surprise for club committee members, the confirmation of a potential multi-year programme of investment created even more excitement.
Outgoing Chairperson and formative club member, Paul McConville shared his initial reaction on hearing the news. "People have told me they could hear the emotion in my voice as I passed on my thanks to Suzanne and her team. I was completely overcome by the generosity of the offer. The gift.  In my time there has been so much development here at Páirc Aodha Dhuibh and it lends itself to doing so much more."
Kate recently met with Suzanne Eastwood (Eastwood Group), Club Development Officer Paul McConville, and Club Facilities Officer Gerard McKeever to assess the edited plans and envision the future.
"This is a truly exciting time to Chair the club. The Eastwood family has given us the opportunity to achieve what was a ten-year development plan in just one or two years. What we'll be able to offer our players and to the wider community is just fantastic."
Development is expected to commence in early 2021. A welcome positive news story for all at the club and the local community.
Eastwood Limited is a third and fourth-generation company that originates from a parent company that was established in 1897. Eastwood Envirowaste, a recycling and waste management division was formed in 2003 by the Eastwood family to augment the service of the demolition and asbestos removal teams.
The funding comes through a government-backed Landfill Tax Community Fund scheme which enables those organisations operating in the waste sector to use tax relief to create funds contributing to community and environmental schemes.
What an exciting end to the year. Watch out for further updates in early 2021.
For further information contact pro.carryduff.down@gaa.ie