Over the winter, the GAA has moved all its data collection portals into one streamlined system, Foireann. It is the first time that the GAA has brought all its associations under one umbrella, namely GAA, LGFA, Camogie and Handball associations.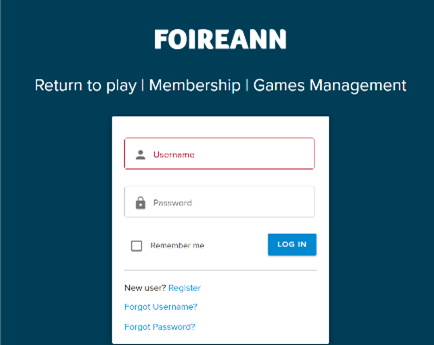 Foireann can be used by members of the all of those organisations to process Return to Play health declarations, membership payments and sharing of information relating to teams within a club. The vast majority of Carryduff members will already have a username and password to Foireann from their use of the Return to Play facility during the 2020 season.
Accessing Foireann
Foireann can be accessed through www.foireann.ie and entering your username and password. Many of you will have used this system in 2020 for Return to Play – Health Questionaire. If you need you can reset your password to gain access using the forgot password process.
On entry to the site, you will be presented with a Dashboard and will see a list of options on the left-hand side of the screen.
Updating Your Profile
In order to make the most of the Foireann, you will need to update your profile using the tabs on the left-hand side of the screen. The system is user-friendly and the more information you include from the outset, the more adaptive it will be going forward.
Step 1: Update your Profile
You should complete the basic details on your personal profile as requested, much of it will already be in place from your Return to Play data from last season.
Medical Information
Remember to include all relevant medical information, which may be needed in case of emergency. This information will only be visible to members of the Executive Committee who use it as part of their specific roles, e.g. Children's Officer or Health and Safety Officer etc.
Club(s)
The most important part of this section is to align your profile with Carryduff, which can be done by using the drop-down menus.
Communications
Finally, tick all relevant boxes relating to communications you wish to receive from the club during the year. Note that if you do not give permission for Club Communications, you accept that you will not receive information relating to the AGM by email.
Step 2: Create your Family (if needed)
Completing this section correctly is vital if you wish to take out a family membership with the club.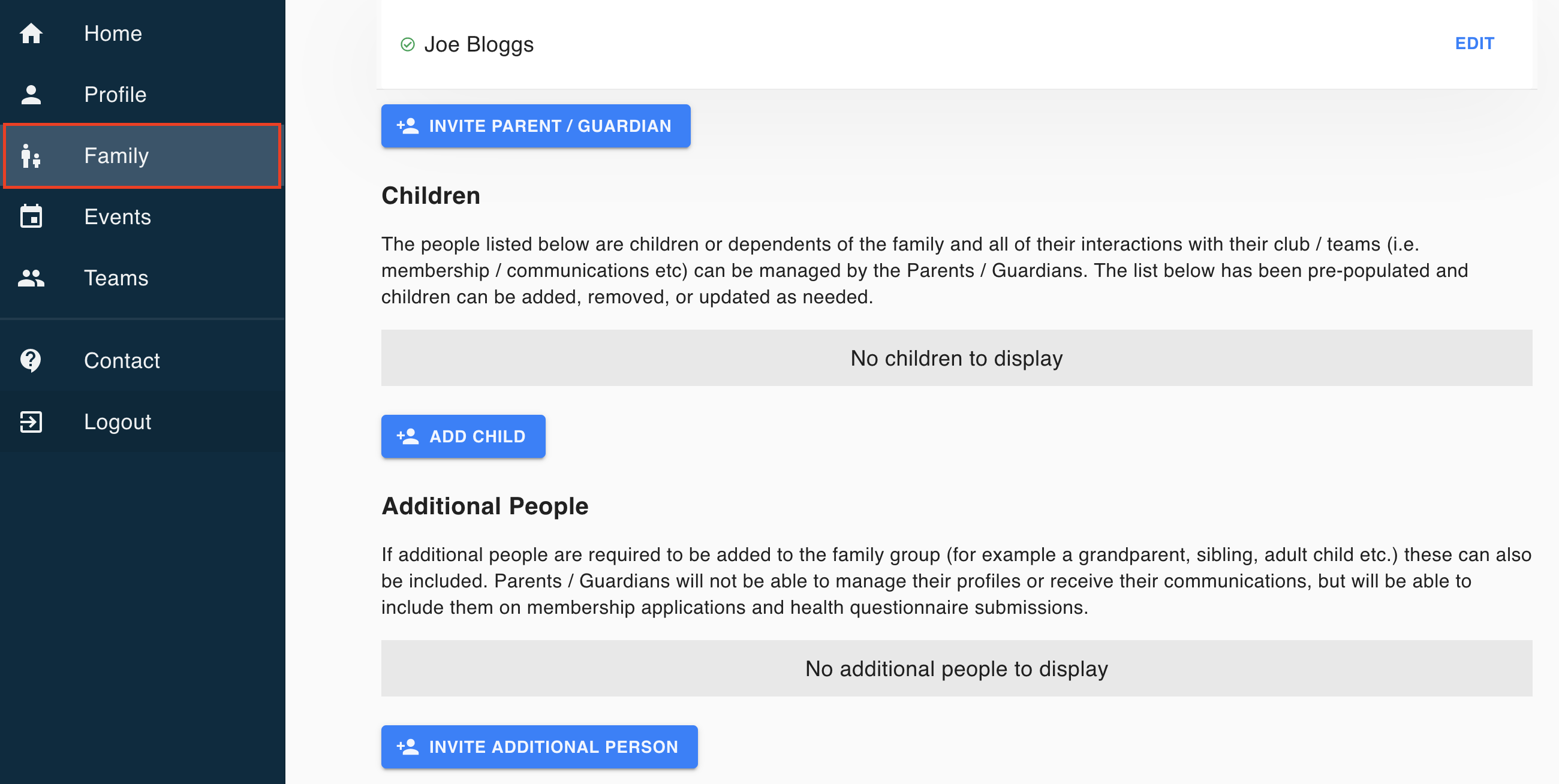 You will need to add additional Parents / Guardians and Children – updating their profiles as you did your own. See Step 1. When adding additional Parents / Guardians, they will be notified and requested to confirm and update their profile before you can complete membership options.
All female non-players in a family should tick GAA (not LFGA) when editing their profile
When you move forward to complete your family membership, it can only be done by pre-populating information you have already provided to the system.It is your responsibility to ensure that each member of your family has a Foireann account and that you have linked your family together.
For a simple, step-by-step guide to setting up your family on Foireann, click here.
Step 3: Teams
In order to assist the club to provide you with relevant information for you and your family, you should assign yourself and/ or members of your family to the correct teams for the 2021 season.
This can be done by simply selecting all teams and choosing the correct team from the list. Once you have paid your membership, you will receive updates through Foireann of any events planned for your team. These will appear in your Events section and communications will be issued.

For a simple, step-by-step guide to setting up your teams on Foireann, click here.
Step 4: Membership
Once all the above has been completed you are now in a position to set up your membership for the 2021 season. In line with the Club Constitution, the membership fees were struck at the 2020 AGM. All membership options and fees are available below.
Please note that due to the impact of the curtailed impact of the 2020 season, some membership options have a number of variations. If you are unsure which option applies to you, please contact the club registrar on registrar@carryduffgac.com before proceeding. Use the following guidance to help you complete the process.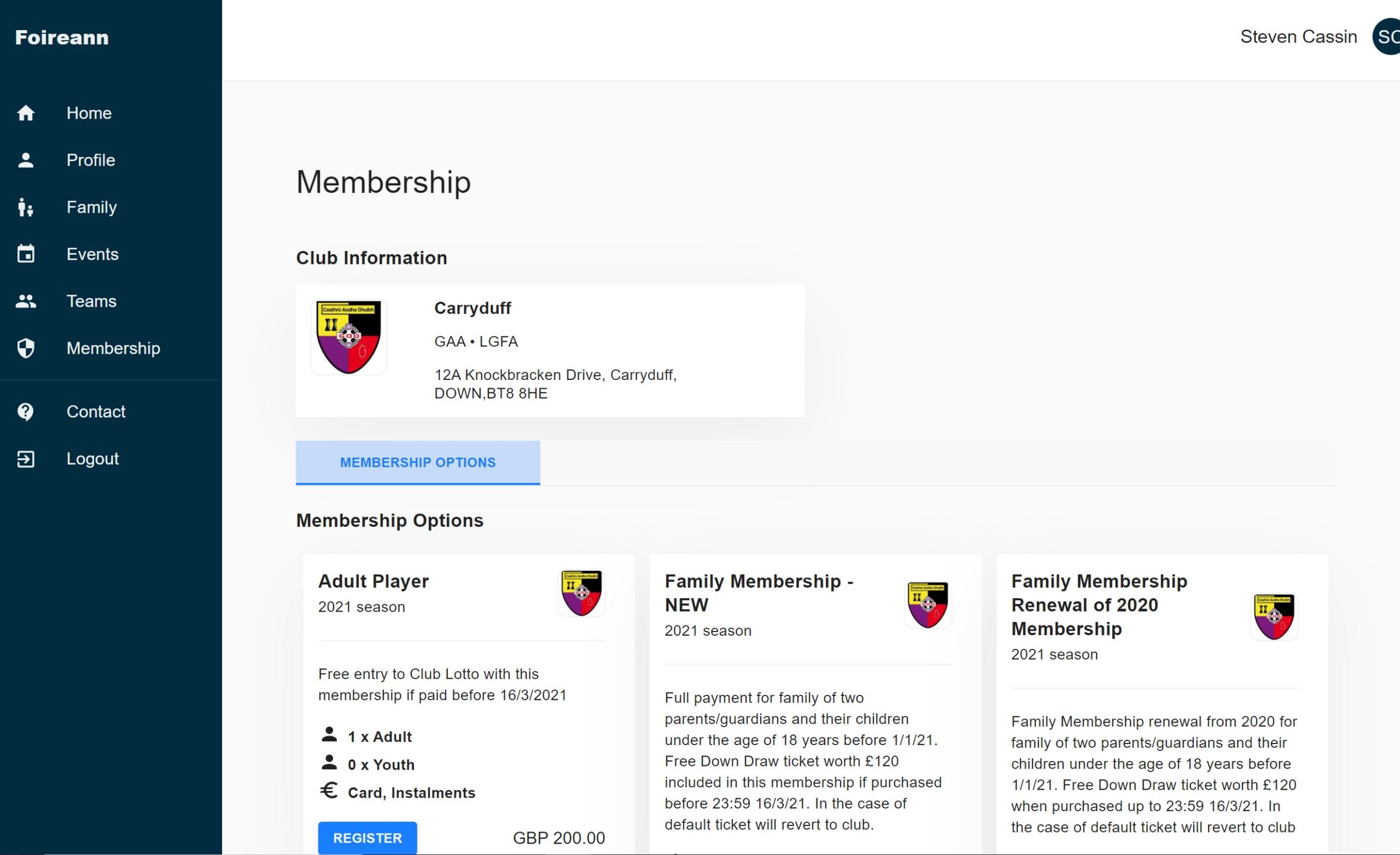 Carryduff GAC Membership Options 2021
Category
Cost in full
Instalments*
Notes
Player
Adult Player
£200
8 x £25
Free entry to club lotto for 52 weeks if paid before 28/2/21
Student Player
£160
8 x £20
Free entry to club lotto for 52 weeks if paid before 28/2/21
Unemployed Adult Player
£160
8 x £20
Free entry to club lotto for 52 weeks if paid before 28/2/21
Non-Playing Adult
£80
Juvenile Player
£120
Player under the age of 18 on 1/1/21
G4MO
£110
Family
2020 renewal with free Down Draw ticket
£284
8 x £35.50
20% refund on 2020 feesFree Down Draw ticket worth £120Must be purchased by 28/2/21
2020 renewal
£284
20% refund on 2020 feesMembership purchased after 28/2/21
2021 new family with free Down Draw ticket
£325
8 x £40.63
Free Down Draw ticket worth £120Must be purchased by 28/2/21
2021 new family
£325
Membership purchased after 28/2/21
Other
Nursery
£80
n/a
Children under 6 years 6 months on 1/1/21
OAP
£55
n/a
Adults over 65 years old on 1/1/21
Social
£40
n/a
Life
£1000
n/a
Contact registrar

* All memberships paid by instalments must be paid by October so number of instalments will be based on month of first payment, e.g. February = 8 months