Following months of preparation, our U14 girls departed at 9.30 am on the 28th of June to participate in the National Feile Peil na NÓg 2019. The girls drew a tough group in Division 2, containing our host club Claremorris GAC currently unbeaten table toppers in Mayo Division 1, Breaffy GAC also from Co Mayo and Banner ladies, the Co. Clare champions. There was much excitement on the way down, from players and coaches alike, in anticipation of our first match against Breaffy GAC at 4.45pm. We arrived in Breaffy at 3.30 pm and were warmly greeted by the Breaffy U14 girls who formed a guard of honour as we made our way through the gates.

Following the journey, the girls were keen to get started and it was relief to finally get under way. The girls made a great start scoring a point inside the first ten seconds from centre half forward, Katie Foy, but there were also signs of frustration throughout the first half as the Breaffy keeper made a string of good saves and our dominance wasn't reflected on the score board. However, the girls battled hard with great blocks from the irrepressible Tara McCarron in midfield & Ciara McLornan at corner forward and interceptions from our ever reliable wing backs Ciara Magee & Maebh Napier. Captain Sian O'Neill kept the score board ticking over with another point and a great finish, low into the corner by full forward Erin Fitzsimmons just before half time settled the nerves. In the second half the girls began to impose themselves on the game with great attacking play exemplified by the tireless Roisin McKenna with a marvelous solo effort, carrying the ball from midfield and driving towards goal before finishing into the net. Further points were added from Sian and Katie and subs Ashling Wojcieszak & Grace Loughran also got in on the act, popping over points. Ciara McLornan put the icing on the cake with another goal to finish the match Breaffy 1-1 : 3-10 Carryduff. A solid start to the tournament.
Our next match threw in at 7pm against a physical Banner side. Again, the first half proved to be quite even with points coming from Erin, Katie and Tara McCarron. Our full back line of Olivia Knight, Dara Hughes and Melissa deAlmieda, who lined up in front of the ever-dependable Tara O'Neill in goals, provided the foundations that allowed our attacking players to gradually exert control. Ciara McGeough, ever present at centre half back throughout the tournament, read the game superbly, stifling Banner attacks with important interceptions. In the second half Laura Gilmore made an impressive impact of the bench, scoring a goal as did Ashling with a neat lob. The game finished Carryduff 4-9 : 1-1 Banner. An excellent start to the competition and our place in the cup competition secured. The only thing to be determined was whether we would qualify as group winners or runners up, as Claremorris had also won their two opening fixtures. That would be decided the next morning in an epic encounter between both teams, but before that we travelled to Claremorris to meet our hosts. The girls were greeted warmly by their host families and following some refreshments we waved them on before moving on to our hotel. A long, but successful first day in every way.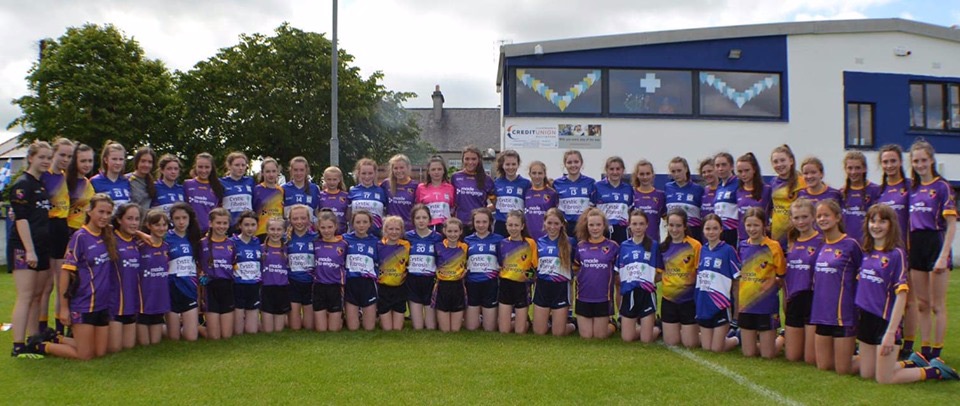 The next morning we met at Father Gibbons park Claremorris to take on our hosts. It was a beautiful summer morning and fans from both sides were out in force to support the teams. Claremorris showed their class by forming a guard of honour for the Carryduff girls on to the pitch. We attacked up the slope in the first half against a strong Claremorris team who played with confidence, but our defence was resolute with great blocks form Ciara Magee, Maebh Napier, Tara McCarron and Olivia Knight. Our attacking play began to get more fluent with Beth Morgan making a strong start. As half time approached we were two points down but Katie Foy tapped over from a narrow angle to get one back before the whistle. The second half was also tense as both teams went toe to toe, but Carryduff started to get control with points from Sian and Erin. A goal from Orlaith Loughran provided breathing space as the girls once again weathered a late spell of pressure from our hosts. Final score, Claremorris 0-3 : 1-3 Carryduff. Three wins from three in the group stages and our place secured in the quarter final of the cup as group B winners. This meant we avoided New York, who topped Group A. Following the match we had some refreshments, again generously provided by our hosts before travelling to Headford, Co. Galway to play our next match.
Our opponents in the quarter final were Kilmoremoy from Co. Mayo. This was a game in which the girls brimmed with confidence and put on a stunning display of quick, direct attacking football, with scoring contributions from all over the field. Final result 6-8 : 0-3. We headed back to Claremorris to drop off the players with the host families and get ready for the evenings social event arranged by our hosts. In a weekend of on-field success this event organized by Claremorris was one of the highlights of the entire trip. After the speeches and exchange of gifts between the clubs, there was a disco. It was heartwarming to see the girls (and parents!) from both clubs interacting and integrating so well. Everyone that was there that evening will remember 'Rock the boat' for a long time to come! We finished up at around ten and got some rest ahead of the semi-final against Moneyglass from Co. Antrim the following day.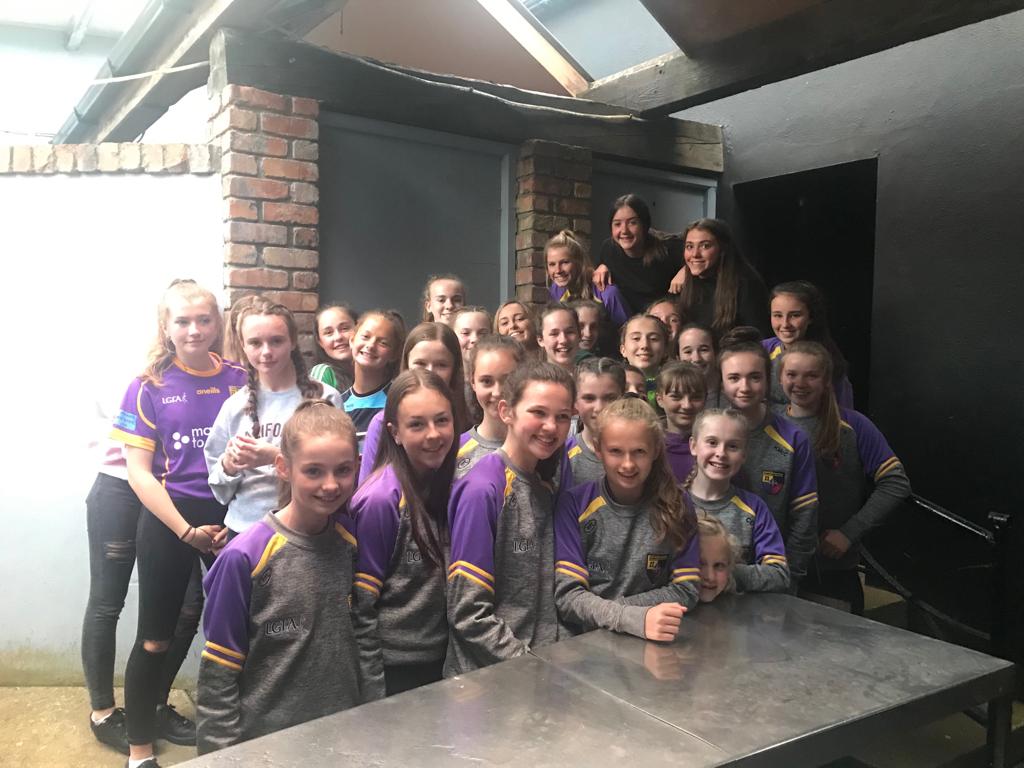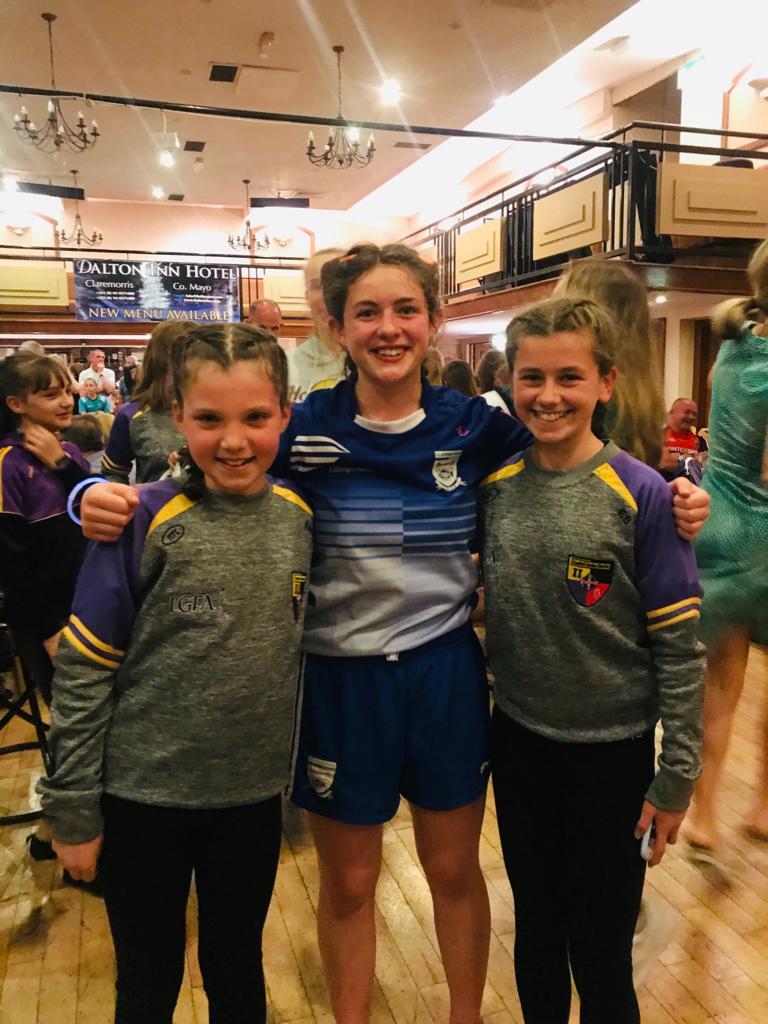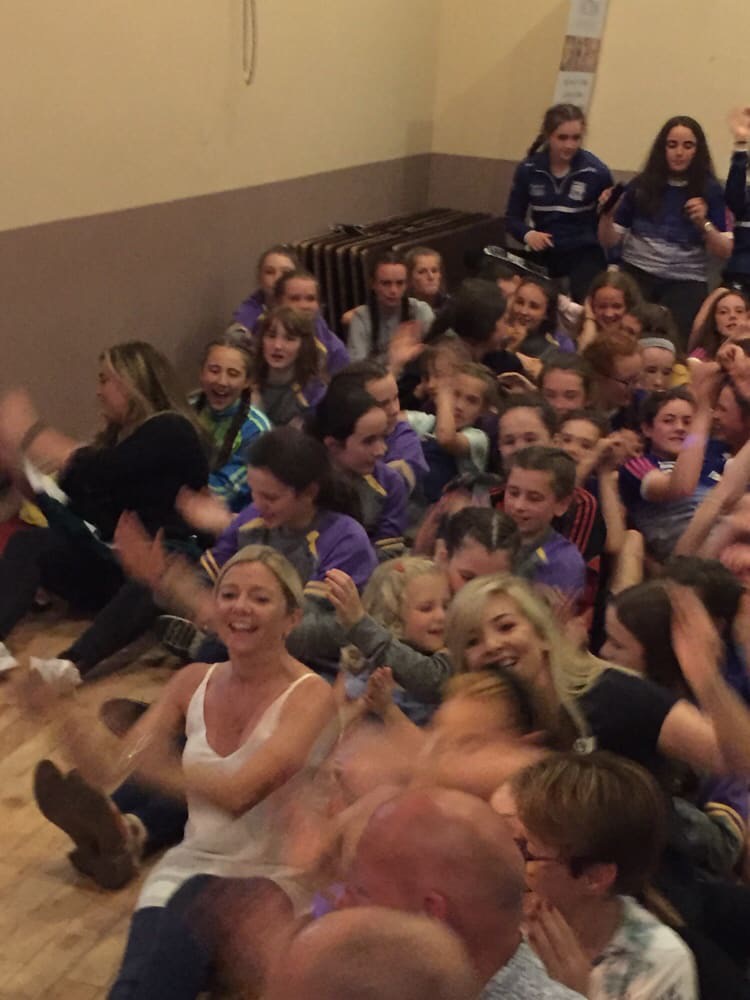 We collected the girls from the host families and said our farewells to all at Claremorris at around 9.30am before setting out for the Connacht GAA centre, outside Knock. The match against Moneyglass threw in at 10.15 and it was immediately clear that this would be an even, hard fought contest. Carryduff got off to a strong start with a first half goal from Sian O'Neill, who also added a point and further points were added from Grace Loughran and Katie Foy, but Moneyglass rallied in the second half to counter our first half lead. Our back six continued to fight for every ball operating as a tight unit, covering for each other and reading the danger. The game finished all square. We headed for extra time, 5 minutes each way. This was a tense affair but the Carryduff girls kept their cool in the hostile atmosphere. Laura Gilmore scored a point in the first period of extra time and Katie Foy added a goal to ease the nerves in the second period. A final point from Erin Fitzsimmons saw us win the tie 2-5 : 1:3. A final against New York beckoned.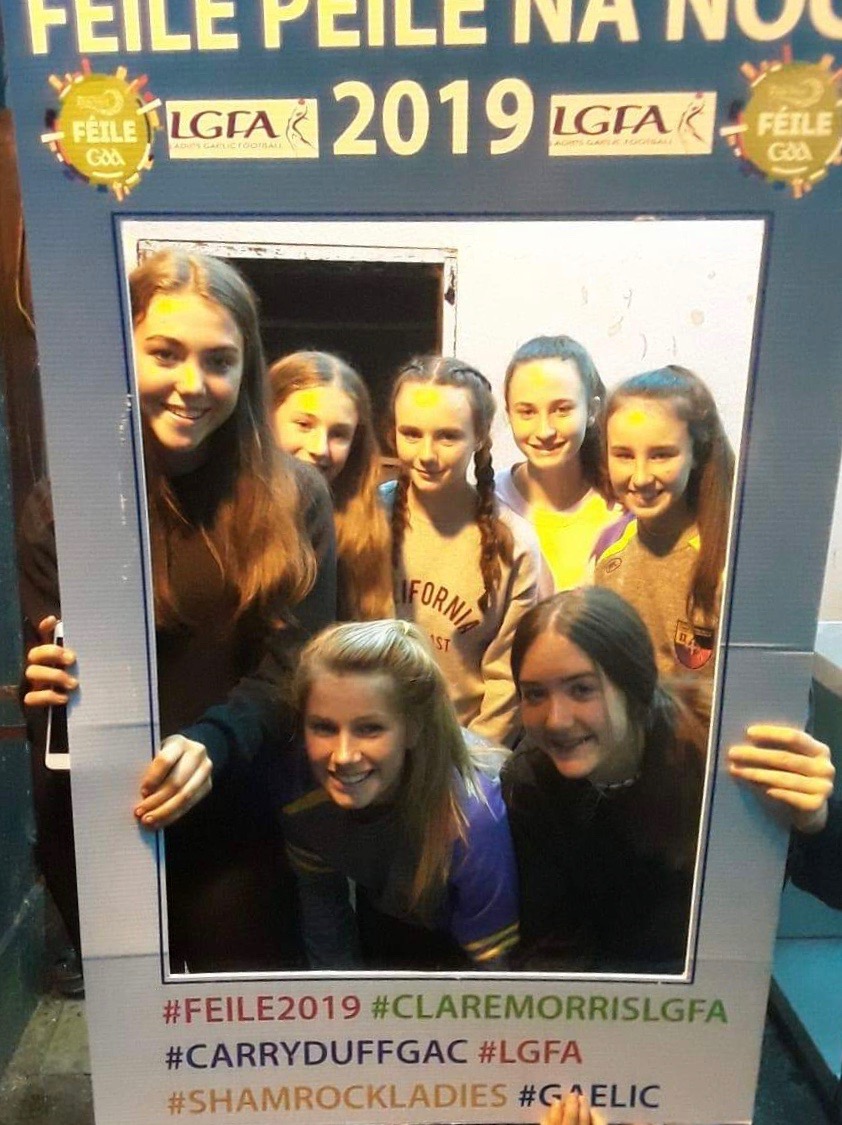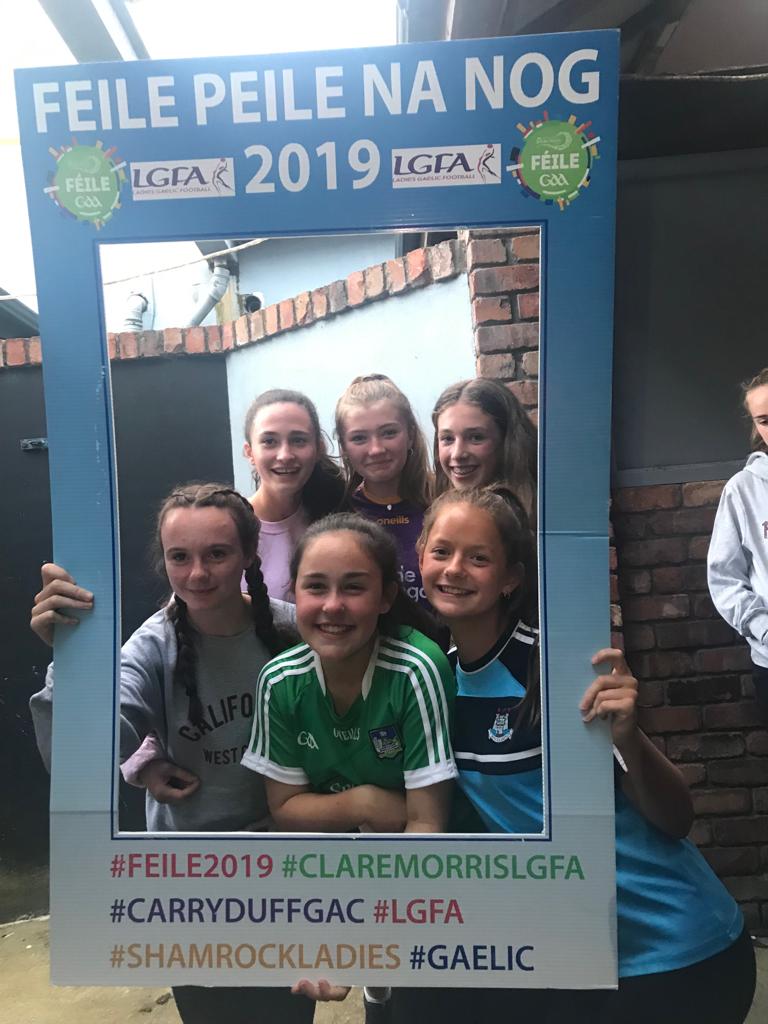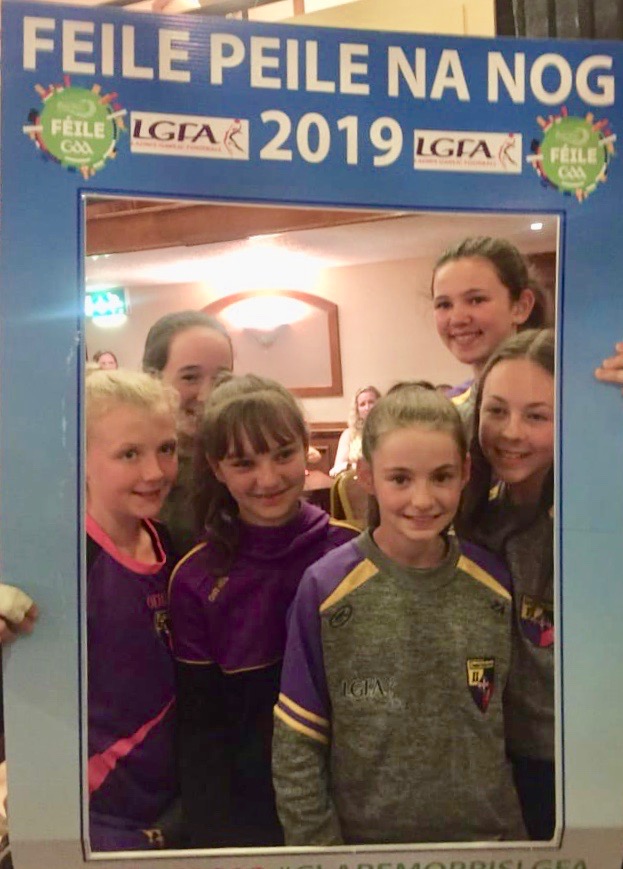 After much waiting around the final eventually began at around 4pm. It was a joy to see our friends from Claremorris coming out and supporting us every step of the way. What a class act they are. Again, this was another heavy weight contest with both teams refusing to give an inch. We started strongly taking the game to New York and playing all the football, but the visitors were dangerous on the break and Tara O'Neill produced an outstanding save to deny them a goal before half time. We went into the break a point down. In the second half our pressure began to yield the scores that our play deserved. Sian O'Neill, with a truly heroic captains performance, scored a trio of points from free kicks to put us up by a point with 5 minutes left. However, following an unlucky ricochet in the small square the ball rolled into our net to give our opponents the lead. We had to push, throwing extra players into attack to get the score we needed. This left us open at the back and New York capitalised by adding another goal. However, we didn't give up. We were 1:3 down with 2 minutes left when another surge forward from Sian and Katie got us the goal that kept us in the game. We were one kick away. Lara Deegan was effervescent at right half forward and provided the outlet that we needed. The girls continued to drive and when Katie Foy burst through, past the 21, regaining her balance after the referee blew for a foul, it seemed like the chance was on. Unfortunately the advantage wasn't given and New York saw out the win. Final score, New York 2-3 : 1-3 Carryduff. It wasn't meant to be.
The final whistle was met with a few tears all round, but the coaches were left with an overwhelming sense of pride in this group of young ladies. Heroes all. It's difficult to sum up just how well they represented the Club over this weekend, on and off the field. We couldn't ask for any more. Now as we write, that initial sting of disappointment has given way to excitement for the rest of the season and beyond. Watch this space.
A weekend like this can't happen without help from an enormous amount of people. So, to everyone at Carryduff GAC, Claremorris GAC, the Féile organising committee and our generous sponsors: Made to Engage, Belmont Orthodontics and Premier Scientific, thank you. To Aoife McMahon, Zara Armstrong, Sophie Osborne, Hannah Monaghan, Katie McKernan, Eimear McReynolds, Isa McCarron, Shauna Cooney & Katie McCusker, thank you for supporting your teams mates so well, for assisting the coaches and for completing match reports without which this summary would not be possible, thank you. For all of you helped in fundraising, ordering kit, writing grant applications, assisting with administrative requirements, buying gifts for hosts, getting ballot prizes, providing lifts, buying provisions, delivering food, hauling water bottles, organising logistics, updating social media, providing first aid support and much, much more – thank you. There are a few people that deserve special thanks, especially Louise McMahon, Niamh O'Carolan, our bus driver Michael Cunningham, female mentor Nichola Gilmore, and Dolores Hutton, for all logistical support and organization. Thank you all. If I've missed anyone I'm sorry, but know that all your contributions are appreciated and valued..
Finally, from a personal point of view, I would like to pay tribute to my fellow coaches, Noel, Aine, Shane and Michael, not just for your support over Feile, but the entire season so far. As coaches, we feel privileged to work with this group of players, but I feel especially privileged to work with this group of coaches. For your continued support, commitment and dedication to the team – thank you.