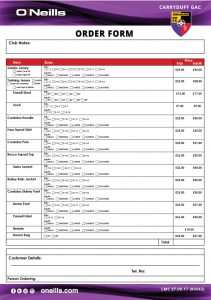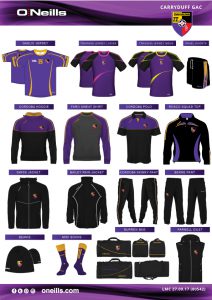 Club Gear
Club gear is now available to order. We will be placing an order this week which will be back by Christmas and a further order in November which will be back for start of the new season.
All gear must be paid for in advance and may not be returned once ordered. O'Neills also require minimum orders of each item before they can proceed.
Anyone interested in placing an order this week can do so at the club on Wednesday 6.30-7.30. Payment by cheque only payable to Carryduff GAC. November order will be available through Klubfunder hopefully with an evening at the club when kit will be available to try on for size.
Closing date for November order to be confirmed later.