Next year Carryduff GAC celebrates its 50 years anniversary. To celebrate, the club has designed a retro jersey to mark the occasion. You can get yours from just £27 now on Klubfunder. All orders must be received By Sept 1st with delivery expected within 6-8 weeks.
Get your Jersey Order in today!
This is the first in a number of anniversary celebrations that will be organised and hosted throughout the year, allowing us to celebrate our heritage, and our journey to the club we are today and to proudly look into the future as we develop our club, build our membership, culture and celebrate our wins on and off the field.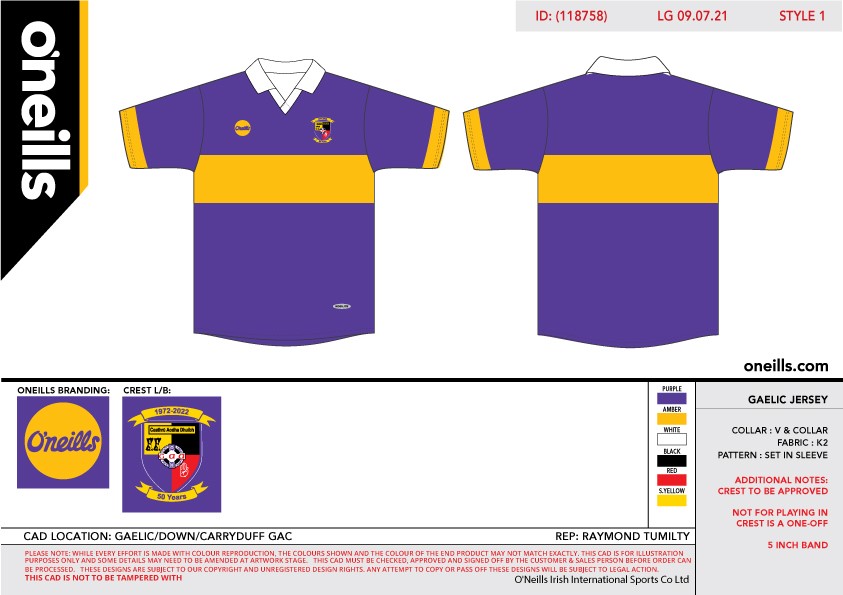 Club Chairperson Kate Connery is delighted to announce the launch of the first of many anniversary initiatives and is seeking our support.
"This club has come a long way in the last 50 years. 2022 is going to be a great year, when hopefully we can look back on the worst of the Covid Pandemic and get together in all sorts of ways to celebrate the 50 years.
"The launch of the retro jersey is just the first of many activities and we look forward to running events across the year. Events to get all members across codes and age groups, past and present, near and far involved.
We invite all our members to get involved, not only to attend events, support activities but to propose and organise their own – with the support of the club.  But first – they should get their orders in for the Anniversary Retro Shirt so they can turn out in style!"
It's also a great chance to involve the local community and to celebrate the new facilities we'll have in place and in plan by then."
Get your Jersey Order in today!
Get involved with the anniversary events planning
If you would like to support the club in celebrating the 50th Anniversary, please share some details of your idea on the Celebrating 50 Years of Carryduff GAC form here.
*Minimum order of 12 applies. No refunds or exchanges are available, as items are special orders. Unfortunately, there will be no sizing night at the hub but O'Neills have a sizing guide on their website.