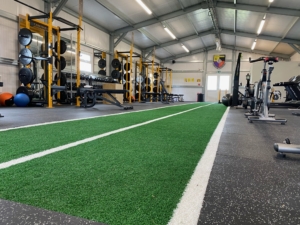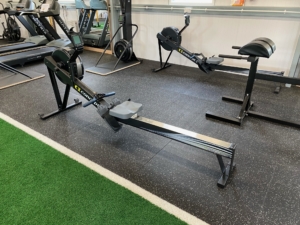 Carryduff GAC is delighted to announce the opening completion of its new Health and Wellbeing Centre and the opening of the facility to club membership.
The new facility boasts a range of training, injury prevention, and rehab facilities and is now open to all adult members within the club (16-18-year-olds can use the gym as a team session under formal supervision).
The centre has been in development since 2020 and was made possible after many months of fundraising efforts from our senior teams and around the club and after a huge cash injection from the Eastwood family and the Eastwood Group.
We caught up with Gary Morris, who led the fundraising and planning efforts for the Club and asked him about the initiative.
The facility looks amazing – So tell us about the fundraising efforts!
There was a lot!! Carwashes, sponsored walk,  last man standing competitions, raffles, race nights, trips to New York,  bbqs, advertisements, doing as much work ourselves in-house. The huge injection from the Eastwood family for club developments made the thing possible in the end. As a collective, families have bought and sold tickets, attended events and supported the efforts.
Why is it so important?
From a health perspective, it's a great facility for keeping our community/ members fit, strong and well into the future and will be complemented shortly with the addition of the walking track. It's going to be used for rehab, and injury prevention by many.
From a social perspective, I think it's going to be of massive benefit for the playing codes and members/ families to interact more. And from a competitive perspective it's a state-of-the-art strength and conditioning facility that I hope can benefit all playing codes, and enhance athletic ability.
Will it always be full of teams or senior groups?
Nope! The ethos is for maximum engagement and maximising utilisation for all members. Teams will be able to conduct sessions as a whole going forward but more likely not within the playing calendar.
So, tell us about the equipment. What is available?
We have a huge selection of cardio equipment. Bikes, treadmills, rowers, ski ergs, as well as strength equipment in squat racks, benches dumbbells and prowler track. We also have a lot of accessories to enhance rehabilitation, warm-up/ activation work and injury prevention.
What are the opening hours?
Currently 06.00am to 00.00
Are there any classes or training sessions to get to know the equipment and training techniques?
An induction is an essential part of becoming a member of the HWBC which will be as comprehensive as the individual desires.
The plan is to work closely with the Wellbeing subcommittee going forward as the membership comes in and looks to run structured externally hosted classes.
Any advice on good etiquette?
Train with a smile on your face, this is your club and your facility for the future.
How much does it cost?
There are two option – £100 per annum upfront, or £10 pm paid by Direct Debit. Additionally, the security access fob costs £10 as a one-off.
How do I join?
You can go ahead and Klubfunder membership options are already live and being sold.
Is the Health & Wellbeing Centre secure?
Yes – Access is secured by Electronic fob access and 24hour CCTV is in place.
Is the Health & Wellbeing Centre covid safe?
We have a number of protocols and a risk assessment completed to maintain optimal covid safety and mindfulness for all members, covered within the induction.
Who is the main point of contact?
HWBC has its own subcommittee with representatives from senior female and male players.  The key contact is myself though (Gary Morris – contactable on gary.morris1@hotmail.co.uk)
Who has been involved in planning and implementing this project?
There has been a desire to have a facility in carryduff for a long time,  but after an AGM in 2018 Paul McConville threw down the gauntlet and challenged the senior players to go about fundraising for one.
We have been helped and advice sought from multiple Club members ever since.
The best car we ever washed tho was the SP PLUMBING &Heating fleet/ Massey tractor.  Sean has helped us massively from there on, driving fundraising and helping with all construction and organising.
Lots of construction work, groundwork,  painting, plastering, joinery, electrical, even toilet fittings were supplied and provided at bare cost/foc. Local businesses to Carryduff have sponsored the efforts and the developments for little more than social media recognition.
Lots of help has been forthcoming and continues to be offered, and those people know the part they have had to play. True volunteers and club people!!
Are there any future plans for further development?
I think if I ask another person for another tenner…  it could be curtains for me.  I am absolutely delighted with what we have delivered and have created.  I am more than happy just getting members using it and growing the equipment/ fine-tuning.
We couldn't agree more Gary – what a great facility for all of the club, and soon to be followed by our community walkway and recent activation of our floodlights, we are making great strides. Thanks to all who've contributed and continue to do so.
Get your membership for just £10 per month on Klubfunder.
https://www.klubfunder.com/Clubs/Carryduff%20GAC/Membership#MembershipOptions