U14 Girls Féile – The Carryduff-Mullagh Connection
U14 Girls Féile – The Carryduff-Mullagh Connection
As winners of the Down county Féile, our U14 girls team will proudly represent their club and county in the All Ireland Féile in counties Cavan, Monaghan and Fermanagh this weekend.
The girls and their coaches, Aidan Morris & Donnla Fisher, will depart from the Carryduff GAC at 12:30pm Friday 23rd June to meet their hosts in Cuchulains CLG from Mullagh, Co. Cavan. They will present Cuchulain CLG with the inscribed Mourne slate, shown below, as a token of our club's appreciation for hosting the Carryduff GAC U14 girls at Féile.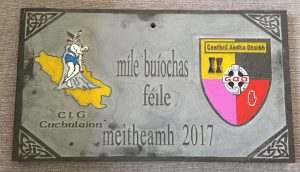 The gift from Carryduff GAC to Cuchulainn CLG
As our U14 girls prepare to leave, we provide a synopsis of the links between Carryduff  and their host club, Cuchulains CLG.     The Mullagh Connection
There is a long-standing link between the Carryduff & Cuchulain clubs, since our own Paddy Mullan is a native of Mullagh and played for them up to minor level. In addition, his own father Pat, played on the Cavan Junior team that defeated Down to win the Ulster final of 1932.
Their homeplace is a relatively small village with a population of ~1,200 and is located in the south east of county Cavan. Mullagh comprises approximately 26 townlands, from Annagharnet through Lenanavragh, to Ráth an Tamhain and is located equidistant between Virginia and Kells in the Royal county of Meath.
A timeline of the GAA in Mullagh (By Paddy Mullan)
1886 Mullagh Breffnians was formed as only the 3rd GAA club in Cavan.
1887 Mullagh native T.P McKenna, was elected 1st Cavan County Chairman.
1910 The first Athletic sports under GAA rules were held in Mullagh on the first GAA grounds in Cavan complete with railed in playing pitch.
1920s Camogie introduced in Mullagh
1947 Simon Deignan and Edwin Carolan of Mullagh played on the victorious Cavan Senior football team who beat Kerry in the all-Ireland final in New York.
1948 Both men again featured on the Cavan team that beat Mayo in the AllIreland final of 1948,
1949 Simon Deignan and Edwin Carolan represent their club & county again but lose out in the final to Meath.
1952 Edwin Carolan along with his brothers Paddy and Simon teamed up with fellow Mullagh native Phil "the Gunner" Brady to avenge their county's defeat in 1949 by beating Meath in the all-Ireland final.
1954 The same Mullagh quartet represented their county in the All-Ireland semi-final, but were defeated by Meath.
1955 The same four men turned out for their county against Kerry in the All Ireland semi & held them to a draw. Unfortunately, Kerry proved stronger and defeated Cavan in the All-Ireland semi –final replay.
1969 Birth of Cuchulains GFC through the amalgamation of Mullagh with neighbouring club Cross.
1985 Edwin Carolan community park in Mullagh (where Carryduff GAC U14 Girls will play their Feile matches) was officially opened on 9th June.
1987 Cuchulains won the Co.Cavan minor & intermediate Championships.
1997 Three Cuchulains' players – Ronan Carolan, Terry Farrelly and Fintan Cahill featured on the Cavan senior team that defeated Derry in the Ulster S.F.C final in July.
In addition, Cuchulains CLG have won All-Ireland Championships in both Scor na nÓg set dancing and in Sinsir Ballad Group.
On behalf of Carryduff GAC and all of its members, we wish our U14 Girls the best of luck at Féile!