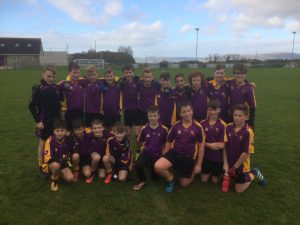 U13 Boys Maintain Good Form
The U13 East Down league continued on Sunday with the squad playing their third league games of the campaign. It proved to be a fruitful morning for the boys, as both teams recorded fine victories.
In Division One, Carryduff travelled to Kilcoo and had a good contest with their hosts. With strong winds blowing cross the pitch throughout, this was going to be a tricky encounter with a Kilcoo team that are always well drilled and competitive.
There was little between the teams for the first 15 minutes as they largely matched each other score for score. The Duff full forward line was working hard during this period however further out the field, delivery of the final ball was taking time to settle down. After some good scores and great work by Eoghan O'Connor, the Duff started to find their rhythm, rattling off two goals in quick succession around the 20 minute mark to leave some day light between the teams. A few lapses in concentration just before half time allowed Kilcoo back into the game with a goal and point to leave the half time score 2-5 to 1-4.
Having lost the dominant Lorcan Swail to a black card just before the interval and Jamie Cunningham to injury in the pre-match warm up, the team certainly had to bring a much improved collective effort to the second half and they didn't disappoint. With Donnelly, Kelly and Sherry now starting to dominate Kilcoo's half forward line and the Crosbie / McReynolds axis in midfield continually driving forward, the Duff forwards enjoyed a much better quality supply of ball for the second half. O'Connor continued where he left off while Oran Teague, just back from a lengthy injury lay off, and McCarroll provided great support. As Kilcoo looked for ways out of their defence, the work rate of Maguire, MacFarlane and McArdle ensured minimum attacks in the second half. Indeed anything which did make its way up the field was dealt with by a committed full back line of McGrady, McCann and Dixon.
While the final score might appear convincing at Kilcoo 1-6, Carryduff 4-11, it doesn't do justice to the challenge provided by a gutsy Kilcoo squad that will no doubt prove worthy rivals in the years to come.
In Division Two, Carryduff hosted Saul at Páirc Aodha Dhuibh. The game took a while to warm up, with both teams taking time to come to terms with the strong wind that was blowing right across the pitch. When they did find their range, the Duff slotted over some super points with the Donaldson boys hitting three between them; two for Oran and one for Ronan. The point of the half, however, came at the end of a wonderful quick passing movement from the Duff, as they cut through the visiting defence to provide the space for Eoin Blaney to pop the ball over the bar.
Either side of these points, Carryduff hit two goals. The first was finished to the net by Lorcan O'Connor who fired home from an acute angle, while Cian Duffy also registered with a shot from range that took a deflection off a Saul defender to wrong foot the visiting goalkeeper.
Saul found scoring very difficult and registered only two points in the first half. The windy conditions undoubtedly played a part, but huge credit is due to the home defence for the pressure they exerted. The full back line was in top form and snuffed out their men for the most part. James O'Donnell had a fine game, first to the ball on many occasions, whilst Joseph Doherty and Shea Guinness both turned in solid performances and very little got past them. Matthew Tunney dealt competently with what ball did come his way and further support was provided by the half back line. Rory Hughes started brightly before succumbing to a hand injury early on and was replaced by Luke Morris who was in tenacious form. The same comment could apply to David Morrissey, who had another good game, while it was great to see Oran McMeel returning from injury. Playing at centre half back, McMeel read the game beautifully and cut off plenty of attacks before they got close to goal. More often than not it's forward players who grab the headlines, but this victory was undoubtedly built on a solid defensive platform.
The first half ended with Carryduff leading by 2-4 to 0-2.
Scoring proved to be even more difficult in the second half and with the Duff defence remaining in top form, Saul struggled to make inroads in to the home side's advantage. Instead, Carryduff edged further clear with points from Lorcan O'Connor and Dara Cunningham. Both sides were creating chances, but proving to be far from clinical. Pressure from Carryduff defenders was forcing Saul forwards to shoot off target, while at the other end, Carryduff were spurning a host of opportunities with some poor decision making, particularly in terms of final ball delivery.
This was a shame, as at times the forward line moved really well. Dara Cunningham was well able to come deep and win important ball, while Eoin Blaney and Oran Donaldson combined well with their midfield and cut holes in the Saul defence with their running from deep. Further forward, Lorcan O'Connor was a constant menace to the Saul defence and Cian Duffy moved well and linked play nicely. Ronan Donaldson was also in good form, showed well in front of his man and deserved his score.
Odhran Doherty is one of the smallest men in the squad, but lacks nothing in heart and he won plenty of scrappy ball and Daniel Robinson is of a similar mould. Matthew Tunney moved to full forward for the second period and pulled his man out of position to create the spaces for the deep runners to prosper. Jack McGrath took over the goalkeeping duties after the interval and kept the play moving with some clever kick outs.
The clock was running down when Saul finally struck for a goal with a speculative effort from range, but Carryduff quickly replied with a goal of their own. Midfielder Lorcan O'Hagan, playing a more advanced role than in recent games, had made plenty of penetrating forward runs and he finally got his reward on the scoreboard when a shot from distance came back off the woodwork and he reacted quickest to gather the ball and finish to the net. With O'Hagan given licence to move forward, his midfield partner, Oisin McGurk was taking on the role of holding midfielder and he put in an excellent morning's work. McGurk won plenty of ball of his own but was most effective in forcing a series of turn overs and cutting out a number of Saul advances at source.
With the game entering the closing stages, Saul made one last advance on the Carryduff goal and were rewarded with two goals in quick succession. Suddenly the Duff lead was down to four points, but the boys dug in and saw the game out. Their determination was epitomised by Matthew Robinson who won a crucial late ball and drew a free to ease the pressure on the team.
The final whistle sounded with Carryduff victorious on a scoreline of 3-6 to Saul's 3-2.
Both teams are in action again on Sunday. In Division One Carryduff host Liatroim, while in Division Two the boys face Loughinisland.
Carryduff v Kilcoo: Fergal McNicholl, Ciaran McReynolds, Fergus McGrady, Lorcan Swail, Jamie Cunningham, Rory Crosbie, Declan McArdle, Ruairi McCann, Rory Maguire, Tom McCarroll, Patrick MacFarlane, Ryan Sherry, Eoin Donnelly, Jacob Dixon, Eoghan O'Connor, Jacob Kelly, Oran Teague
Carryduff V Saul: Matthew Tunney, James O'Donnell, Joseph Doherty, Shea Guinness, David Morrissey, Oran McMeel, Rory Hughes, Oisin McGurk, Lorcan O'Hagan, Dara Cunningham, Eoin Blaney, Oran Donaldson, Ronan Donaldson, Cian Duffy, Lorcan O'Connor, Odhran Doherty, Luke Morris, Jack McGrath, Daniel Robinson, Matthew Robinson.
SAUL 3 dot jpg
SAUL1 dot jpg
SAUL2 dot jpg
SAUL4 dot jpg