U12 Boys Edge Thriller in Loughinisland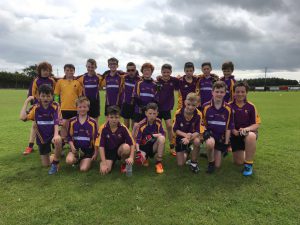 With Saul again conceding the points to Carryduff A in Division One of the East Down league, attention turned to the Division Two game in Loughinisland. The boys might have been excused for facing up to their task with a degree of trepidation, having suffered a heavy defeat to the same opponents earlier in the season. Nonetheless, with a few reinforcements returning and a renewed sense of focus, the squad were determined to redress the balance and at the very least show that they are capable of much better than the tame capitulation in that first meeting. They didn't disappoint.
The game was played in typical Irish summer conditions; sunshine, rain and a wind that seemed to lift whenever the sun disappeared behind the clouds. The hosts had the wind at their backs in the first half and sought to take advantage as they put the Duff on the back foot. They hit 1-2 without reply in the early stages, but Carryduff were working hard to stay in the game and chipped away with a few points of their own in what was shaping up to be a very competitive encounter. When Ronan Donaldson diverted an Eoin Blaney shot to the net, the sides were level and although Loughinisland tagged on a couple of points of their own, the Duff took the lead with a wonderful goal from Matthew Loftus. The full forward showed quick hands to collect a long ball, turn and drive across the keeper from a tight angle. Loughinisland responded quickly with a major of their own and although the half ended with the home side leading on a score line of 2-6 to 2-4, Carryduff were probably the happier of the two teams.
The Duff had the wind at their backs for the second half, but any notion that they would have a more comfortable passage were soon dismissed as the lively hosts quickly fired in another goal. The Duff responded well, firing over a number of points before they hit a real purple patch mid-way through the half. Dara Cunningham, David Morrissey, Liam Blaney and Loftus again all found the net as the team moved through the gears. The midfield partnership of Cunningham and Lorcan O'Hagan were in fine form, driving their team forward and O'Hagan chipped in with two fine points of his own. His second, an audacious left footed effort from an acute angle, put Carryduff nine points clear and appeared symptomatic of the visitors increased confidence.
To their credit, Loughinisland weren't going to lie down and they lifted themselves in impressive fashion. They fired in three goals of their own to tie up this most compelling of encounters as the game entered the closing stages. They were only denied another by a fine save from Matthew Tunney as Carryduff now found themselves under real pressure. If it was going to happen, now was the time to fold, but instead the Duff boys dug deep and showed real resilience. They worked another attack and Niall O'Neill stroked a great point to restore a one point lead. With time almost up, the kick out was crucial. O'Hagan won it and palmed the ball to Cunningham who cleverly drew the defender before feeding Ronan Donaldson who fired to the back of the net. Loughinisland still had a time for a point of their own in reply but as the long whistle blew it was Carryduff who emerged victorious on a score line of 7-10 to 6-10.
This was a fantastic effort from the whole squad who raised their game against well matched opponents. Loughinisland played some great football of their own, with a strong core down the middle and some lively forwards who moved at pace and asked real questions of the visiting defence.
Matthew Tunney was under plenty of pressure but made some fine saves, the pick of the bunch a full length stretch to divert what looked a certain goal over the bar. Defenders James O'Donnell and Jude Dixon worked hard in the fullback line with some great tackling and blocking. In front of them David Morrissey added real tenacity and even found time to get himself forward for an important goal. Finn Cunningham can also be happy with his efforts, covering loads of ground and winning plenty of important ball.
The half backs got through mountains of work. Rory Hughes won some great ball and, on a day of impressive point scoring from the team, he stroked over an excellent free kick from distance. Cameron McClure also put in a huge display, winning ball, driving forward and playing some clever passes in to the forward line.
The Cunningham O'Hagan partnership in midfield ran themselves in to the ground and dovetailed nicely between defence and attack. And they were never short of support from half forward Liam Blaney who covered every blade of grass. His movement allowed him to win a series of kick outs and his range of passing was out of the top drawer. Niall O'Neill worked hard between defence and attack and took a couple of fine scores, the second a real pressure kick with time almost up. Cillian Teague had another good game, battling hard and providing real determination around the middle sector.
Further forward, the Duff were able to alternate with a series of impressive combinations. Eoin Blaney and Matthew Loftus provided a genuine physical presence and stretched the home defence. Loftus showed the value of being out in front of your man to win ball and provide a focal point for the attack. He was able to take his scores too. Max O'Rawe and Eoin Vaugh worked hard to open the space in front of goal and both can be pleased with their morning's work while Ronan Donaldson was deadly in front of goal, hitting 2-1, including the all-important clincher.
Carryduff v Loughinisland: Matthew Tunney, James O'Donnell, Jude Dixon, David Morrissey, Finn Cunningham, Rory Hughes, Cameron McClure, Dara Cunningham, Lorcan O'Hagan, Liam Blaney, Niall O'Neill, Cillian Teague, Eoin Blaney, Ronan Donaldson, Matthew Loftus, Max O'Rawe, Eoin Vaugh.