The Complete All-Ireland Senior Football Championship, 1887-2019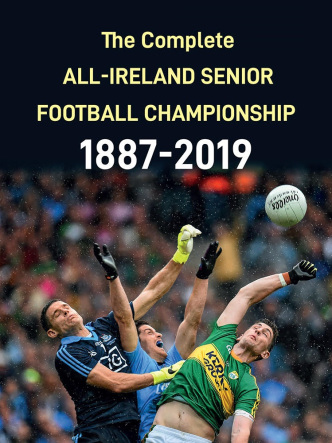 A chara,
'The Complete All-Ireland Senior Football Championship, 1887-2019' has just been published by Litter Press and includes the first full record of the All-Ireland Senior Football Championship from it's first year through to the 2019 final. The book uses original archival and documentary research and includes county-by-county breakdowns, an introduction to the championship and some overall analysis.
Down Gaels have had plenty of glory days after being starved of success in the early years of the Championship – only winning two games before the late 1930s and their first final in 1940. Since then, particularly 1958-1975 when Down only missed out on two Ulster finals, there has been much to celebrate.
Since the book is aimed primarily at a GAA audience, Litter Press is facilitating GAA clubs ordering copies directly. The recommended retail price for the book is £15 but GAA clubs can order copies at the wholesale price of £10. Clubs can make their own choice as to whether to pass the reduced price on to members, to charge the retail price and raise some additional funds (eg to support underage activities etc) or to set a price of their own choosing (above the £10 cost).
The only terms and conditions that apply are that: the order must be placed from an email account associated with the club to gaaclubsbookoffer@litter.press; the email should clearly state the number of copies ordered plus the postal address (including post code); orders of up to ten copies will incur a single cost of £10 postage and packaging; postage is free on orders of more than ten copies; clubs will receive an invoice by email once they have received their order (invoices can be paid by cheque, bank transfer, paypal etc); closing date on the offer is 14th February 2020.
There is more information on the book at the link below.