Intermediate Hurling Championship Carryduff – v – Bredagh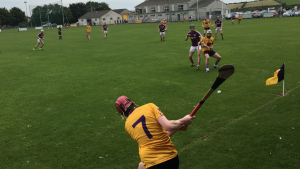 Intermediate Hurling Championship
Carryduff – v – Bredagh
Sunday 19 August 2017 at Ballycran.
Bredagh's Joe Shields opened their account in the first minute converting a free and was to prove consistent when Carryduff indiscretions were to prove costly. Bredagh keeper Ciaran Kearney was of quick reflexes to deny Carryduff an early goal.
Conall Early shot wide for Carryduffthree minutes in but was on target a minute later, pointing from distance.
Bredagh had a couple of squandered chances as Donal Hughes (5th) and Eoin McAlister (6th) pucked wide. However, a quick sucession of points from Declan McCartney (6th and 7th (free)) established a grip on the game as Carryduff struggled for possession. Donal Hughes pointed (8th) to give Bredagh a three point advantage before Sean O Callaghan converted a Carryduff free to reduce the deficit to two points.
Bredagh points from Emmett Trainor (9th) and the marauding corner-back Mark Patterson (11th) established a firmer lead for Bredagh but Sean O Callaghan's fourteetnth minute conversion kept Carryduff hopes alive.
A further O Callaghan conversion (14th) kept Carryduff in touch. The reliable Shields pointed further for Bredagh (17th) but O Callaghan resoponded snatching a point from Gareth lynch's shot on the Bredagh goal.
A further conversion from O Callaghan (19th) left only one point between the teams.
However, Bredagh finished the last ten minutes of the half with Further points from Shields (free, 20th), Eoghan Donnelly (22nd) and Shields (free, 28th) to meet the half time whistle with a five point advantage on a scorelimne of Bredagh 0-10 Carryduff 0-05.
Having failed to play tot their capabilities in the first half Carryduff were presented with further challenge when, after a goal-mouth scramble and having initially awarded a free out from the Carryduff defence two minutes in, referee Ned Morgan then consulted with his umpires and awarded a goal to Bredagh.
Carryduff responded with a converted free from O Callaghan (33rd).
Michael Conway (34th) and Donal Rooney (35th) pucked wide for Carryduff before substitute Ronan Beatty (41st) and Conall Early (42nd) collected points for carryduff who were finally beginning to make a competititon of the game.
Shields missed a free (42nd) for Bredagh before pegging on their final score of the game, a converted 45th minute free.
In the final fifteen minutes of the game Carryduff had points from O Callaghan (free, 46th and from play 57th) and Rooney ( free, 20th and from play 56th) but a number of shots wide of the Bredagh uprights and goal from Ronan Beatty (49th), Conor Beatty (522nd) and Donal Rooney (50th and 56th) saw Bredagh emerge victorious on the slenderest of margins and a score-line of Bredagh 1-11 Carryduff 0-13.
The Carryduff team was;- Conor McLornan, Michael Woods, Niall McArdle, Ciaran Goodwin, Donal Rooney, Conor Cassidy, James Lavery, Conor O Neill, Michael Conway, Peter Loughran, Conor Beatty (c), Daniel McCartan, Sean O Callaghan, Gareth Lynch, Conall Early.
Substitutes:- Kevin Neill, Conor O Reilly, Aodhan McManus, Lorcan McCaughey, Michael Collins, Daire Magorrian, Ciaran Rodgers, Liam Lavery, Rory McKay, Ronan Beatty, Eoin Conway, Demot Magorrian.
The Bredagh team was;- Ciaran Kearney, Mark Patterson, Michael Woods, Tom McGuckin, Chris Ferry, Michael Napier, Paul Kelly, Joe Shields, Declan McCartney, Emmett Trainor, Eoin McAllister, Ryan Curran, Eoghan Donnelly, Cathal Brunton, Donal Hughes (c).
Substitutes;- Sean McGourty, Ian Galway, Danny Robinson, Aaron Maguire, Andrew Hoctor, Kevin McGourty, Kealan Power, Matthew McAfee, Mick Mullan,
Referee;- Ned Morgan.