Tickets available from any member of the fundraising committee from this Friday 30th June.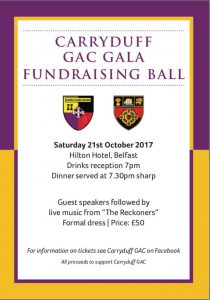 Ulster GAA News
A Multi-Sport Workshop with a sole focus on Funding and Fundraising for sports clubs and designed to provide interesting and innovative ways to develop new techniques to secure funding and improve club's methods of fundraising was jointly organised by Ulster GAA, Irish FA Foundation and Ulster Rugby.

An inspirational young GAA volunteer praised as an outstanding role model for all young people and a symbol of hope for all those battling sickness within the GAA community.