Coaching Conference for 2017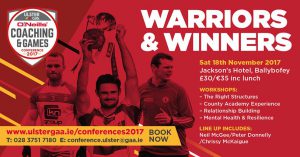 A chara,
Please see information on our Coaching Conference for 2017 – A day not to be missed for coaches in your club!
Delegates who pre-book through the Eventbrite website will also receive a gift from our sponsors O'Neill's Sportswear.
For further information contact the Ulster GAA offices on 0044 (0)28 375 17180
Click on the image below to be taken to the Eventbrite booking page.
Ulster GAA