Carryduff senior men v Drumaness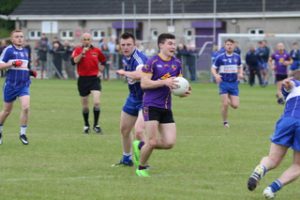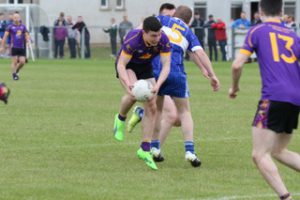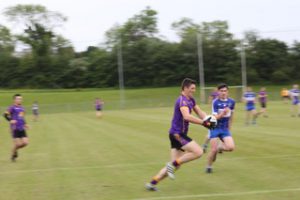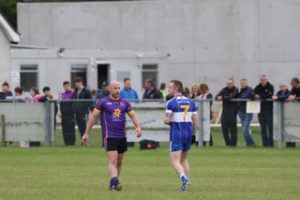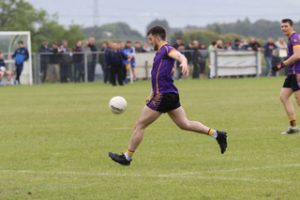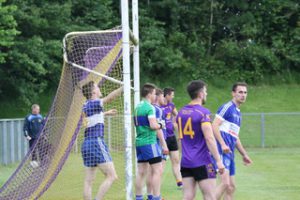 ACFL div 2
Carryduff senior men V Drumaness
Drumaness opened the scoring in the first minutes of the game scoring two consecutive points .It took Carryduff 5 minutes to settle and James Guinness received a long ball in and converted it to a point, not long after his younger brother Daniel powered through to score a point. Drumaness retaliated with two points from play suggesting this game maybe more difficult than anticipated or perceived to be !
The nip and tuck soon changed as Carryduff started to pull away with Ronan Lawler and Sean McGonigal getting on the score board with point  from play and Ronan with a point from a long range free, Carryduff went on to score a further 1-04 from play between brothers James and Daniel before Donal McKeever was very unlucky to pick up a black card in the 23rd minute from what seemed to be a very fair tackle.
Donal was replaced by the younger talented Owen McCabe just in time to help James Guinness score the second goal of the game leaving the score 2-12 to 0-04 at the end of the first half .
The Second half started much the same team with the exception of Paddy McConnel on for Conor McFlynn, Joe McFlynn opened the scoring 10 minutes into the second half followed by a goal from  our new club addition Aidan Keenan who found the back of the net in the 13th minute .
Really Carryduff then took over in a game that was ended in the first half but fair play to Drumaness they never gave up and scored a couple of points in the second Half.
Carryduff brought on John McGeough for his first match playing on the young senior Pannel and performed with great maturity getting stuck in immediately, Ronan McLaughlin, Peter Lavery and Daragh Connelly all made their way unto the field of play with Peter adding to the score sheet within the first few minute of getting on .
Carryduff progressed on to leave the final score at 3-21 to 0-07
Carryduff team:-
Mark Hynds, Seamus McCann,Conor McFlynn(Paddy McConnel),Neill McGowan,Conor McCullough, Josh Connery (0-01), Donal McKeever(Owen McCabe 0-02)), Aidan Keenan (1-0), Jonny Henry, Daniel Guinness(1-02),Joe McFlynn (0-04), Ronan Lawler (0-02), James Guinness(1-07), Sean McGonigal, Michael McGrath.