Carryduff proud to have Sean McCartan as a member !
 Sean McCartan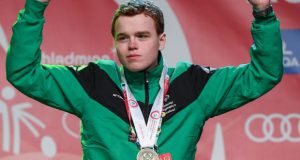 Sean receiving his bronze medal in the Giant Slalom
Sean is a 16-year-old boy who has Autism and has been a club member since he was born. He loves to read, listen to music and to play video games. He also loves sport; he rollerblades, swims, cycles, and through the Special Olympics skis, & does gymnastics. When Sean was young we tried him at Gaelic and hurling but they were not for him, he tried but never got them. Around the time Sean was 7 we got him involved in the Salto Special Olympics Gymnastics Club based in Belvoir. Initially he was unsettled, disruptive and would not follow instructions from the coaches. However, thanks to their patience, these bad habits slowly disappeared and over time he progressed from the beginner class to the more advanced group. He enjoys his Wednesday nights with Salto and has also won a few Ulster titles to boot. While Sean enjoys many sports, his real love is skiing. When Sean was 8 we went on a family skiing holiday to Switzerland; Sean struggled the first day, like many "normal" kids do. Fortunately, the instructor had a young cousin with autism and took a special interest in Sean; he asked his bosses if he could take him for 1 to 1 instruction for a morning. This did the trick and by the second afternoon, amazingly Sean was skiing. Upon returning home we made enquires about special needs skiing and found out about Ski Ability based in Lurgan. We started to go down on Monday evenings with Sean and he absolutely loved it. After our first ski holiday, we have been back to the snow 6 times, he is certainly the best skier in our house, though his older brother Daniel would not agree. This year Sean was chosen to represent Ireland in the Special Olympics World Winter Games, held in Schladming, Austria. Initially he did not want to go without his family but gradually with encouragement, he came around to the idea. In January, he went away with his coaches for a training week to Schladming and had a ball, talking him into going back out in March for the games was not a problem. Sean took part in 2 events, the Giant Slalom and Slalom in the Intermediate section. He skied against boys from Russia, Japan, USA, Norway and all over the world; virtually all come from places where skiing is a major winter sport. Sean skied well and won a Bronze and a Gold medal but that was not all he got out of his time in Schladming. We believe the whole experience has been life changing for him, he is unquestionably more confident and realises this was a massive achievement. Receiving his medal in front of a few thousand people with music blaring and crowds cheering is not a situation Sean would have been comfortable with before, however he surprised us all by loving the experience, he began interacting with strangers who wanted to congratulate him or see his medals. Even his school and people who know him back home have remarked how engaged he has been since he came back. Looking back Sean was delayed in his fine and gross motor skills and while his fine motor skills are still not perfect his gross motor are first class, this definitely would not be the case if Sean had not got involved in the Special  Olympics. We are so grateful to all at Special Olympics Ulster & Ireland for everything they have done for Sean especially the volunteers who give up their time each week, both at Salto & Ski Ability, to coach all the special children who attend these wonderful clubs. Finally, I would encourage anyone with a special needs child to get them involved in sport, it does not matter which one as you will find one to suit him or her.
Mark and Joan McCartan
Sean receiving his bronze medal in the Giant Slalom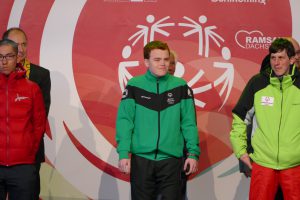 Sean Wining Bronze in Schladming.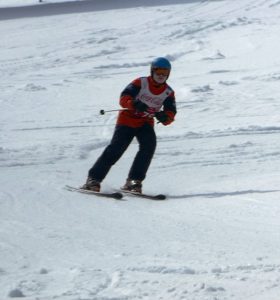 The 2 Ulster Athletes representing Team Ireland, all won medals; Cyril, Sean & Caolan.