A Tribute to Harry McEvoy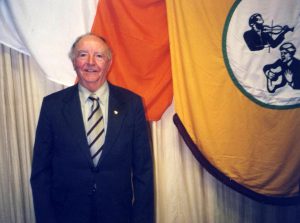 Le brón a bhfuair Coiste agus ballraíocht de chuid Cumann Lúthcleas Gael Ceathrú Aodha Dhuibh, Coiste Oirthear an Dúin, Coiste Contae an Dúin agus theaghlaigh Cumann Lúthcleas Gael iomlán i gCeathrú Aodha Dhuibh, Droim an Easa agus an Chontae Dún le héisteacht a fháil faoi bhás Harry Mac Aodh Bhuí.
The Committee and membership of Carryduff GAC, Coiste Oirthear An Dúin, Coiste Chontae An Dúin and the entire GAA families of Carryduff, Drumaness and County Down were saddened to hear of the death of Harry McEvoy.
The officers and membership of the club express their heartfelt sympathy to Harry's wife Gretta and his family Joe, Marie, Bríd Seán and David, their partners Kevin, Paddy Duncan  and Roísín and grandchildren Luke, Rory, Roísín, Michael, Daniel, Joseph, Matthew, Owen, Conor, Aodhan and Oísín.
Harry had served not only as Carryduff GAC Chairman and Secretary but had also held office on the East Down Board and served previously as Chairman of the County Board.
"Wee Harry" as he was very affectionately known to his many, many friends throughout the GAA was recognized as a 'giant' of the association and respected by all who knew him as a true 'gentle' man.
Harry's calm and dignified persona were also coupled with a commitment and determination that saw him succeed in all he put his mind to and provide inspiration and leadership to those around him. In the darkest days of the 'Troubles' Harry and the other founding members of Carryduff GAC resolutely pursued their ambition to establish and showcase Gaelic culture and games in the Carryduff area.
It is a fitting tribute to Harry that within his tenure Carryduff GAC was established and has grown to be the success it is today at the heart of Parish life.
Harry has been a key figure in both the foundation and development of the Club and a tireless worker for the County. Indeed, if someone were to look up the dictionary for the meaning of volunteerism, they would see a list of characteristics that personified Harry McEvoy.
When the Executive Committee of Carryduff GAC decided to introduce a Hall of Fame, they felt that the first recipient of what is the Club's most prestigious award could only be Harry McEvoy.
Harry was born to parents Patrick & Mary Ann on the 30th January 1930 in Drumaness. Along with his brother Gerry and sisters, May and Lily, the young Harry attended the local Drumaness Primary before he became a boarder in St Colman's College, Newry. Harry's great love of Irish Language and culture developed further and flourished in 'Violet Hill'. He spent five happy years in Newry before heading south of the border for a further five years at St Columban's Missionary College, Dalgan Park, Navan.
1954 saw Harry head back north to Belfast and continue his education at St Joseph's Teacher Training College. Four years later he completed the circle by taking up a teaching post back in his native Drumaness. A short time later he became Principal, a post he held until his retirement in 1990.
Harry met his future wife, Galway girl, Gretta Crowe in 1961, marrying in 1963. Their first child, Joe and a move to Carryduff followed in 1964 with Marie born in 1965, Brid in 1967, Sean in 1970 and David in 1973.  
All through the years Harry has played an active role in his local community.
One of his first actions upon his return to Drumaness was helping to found a St Vincent De Paul conference, becoming their first president.
Harry the repeated the same feat upon moving to Carryduff in 1964.
In 1969, when parents were concerned about the lack of playing facilities for the youth of the Parish, it was Harry they turned to for advice. An Under-16 Team was soon formed, the first Gaelic football team to compete under the Carryduff name.
By March 1972 Carryduff GAC was born. Harry was called upon to serve as the first Chairperson which he did from 1972-1975. In the final year of his term he even found time to double up as one of the Senior team managers!
After stepping down from Club Chairperson in 1976, Harry took on another difficult job, Club Secretary, where his dedication saw him rewarded as the 1976 Club Person of the Year.
Even when elected to Chair the County Board in 1977, Harry still played an active role in the Club, continuing as Secretary along with Nuala McCartan (RIP). During Harry's tenure the Down Minors won the All Ireland for the first time beating Meath comfortably by 2-06 to 0-04.
Harry was the key instigator of the 'Score' publication that brought news of all matters GAA in County Down to an avid readership in Down, Ulster, Ireland and internationally.
In '78 Harry moved onto bigger and better things when he began a long career representing Down at the Ulster Council, a position he held until 1989.
1980 saw Harry join the Ulster Scór Committee. During his time there he served 3 years as Chairperson and 13 years as Secretary. Somehow during this time Harry found time to be elected as Chairperson of the East Down Board, a post he held for 25 years from 1981-1996!
Never one to shy away from difficult jobs, 1983 saw Harry take on the challenging task of restructuring the finances of Down when he was elected the County Treasurer a difficult task at the best of time never mind given all of Harry's other commitments!
One of Harry's proudest memories of the Club was the Ballad Group's All Ireland win in 1983. The win was particularly pleasing for Harry as it was the first national award for a Club he had helped found in a competition in which he had been the driving force for so many years.
Harry returned for a second stint as Club Chairperson in 1984, serving for two more years. This year saw the awards continue with Carryduff winning the Centenary Scór Down Club of the Year.
Harry's third term as Club Chairperson from 1990-92 was an exciting time in the Club with Down's League run in 1990 and the unforgettable All Ireland win in 1991, which Carryduff men played a big part in.
The Club's own fortunes also looked good as the Senior team was competing in Division I or at the top of Division II.
During this spell Harry also got promoted to the big leagues when he became the Ulster representative on the Central Scór Committee at Croke Park.
He then played a central role in bringing and organizing two very successful All Ireland Senior Scór Finals to the Ulster Hall, Belfast in 1999 & 2000.
A bad fall at the Ulster Scór Finals in 2000, resulting in bad knee damage, curbed Harry's mobility for the next couple of years. This was the first time since the Club's inception that Harry had not served on the Executive Committee but he returned to resume his Cultural role in 2004 a position he still held at the ripe young age of 77!
Ever self-effacing, Harry was invited to join the 'platform party' at the Official Opening of Páirc Aodha Dhuibh on the 24th May 2009.
When asked to provide some comments on this auspicious occasion, Harry was typically reserved in relation to his own contribution to the club realizing this fantastic achievement but fulsome in his praise for the carnival of the day and the efforts of others, including all those 'neighbours' who had assisted so willingly to see the ambition of Gaelic Playing Grounds realized in Carryduff ;-
"I would like to congratulate all who were involved in organising the official Opening of Páirc Aodha Dhuibh. The day was very enjoyable for all who attended. I would also like to thank the Mayoress of Castlereagh Borough Council for joining us in our celebration and her kind presentations to both the Down and Dublin senior football teams.
I felt very proud to see the development that has taken place in the club since its foundation almost forty years ago.
Páirc Aodha Dhuibh has been a tremendous development and offers the club a fitting home.
We remain indebted to our neighbouring clubs who assisted us through thick and thin for the first thirty years of our existence making their pitches and facilities available to us. We also remain indebted to Queen's University Belfast for the use of the Dub Pavilion and pitches and to Belfast city council for the use of Cherryvale facilities.
The opening event itself was a fitting occasion and spectacle and the entertainment across the weekend and particularly on the Sunday evening was first class and a ready indication of the diversity of talent that exists throughout the club.
The contribution of this moderate and modest gentleman to Carryduff GAC, his enthusiasm for his community and his contribution to the development of skills and talents of others will be remembered fondly by all who knew "Harry".
Ar dheis Dé go raibh a anam dílís
Harry's GAA Service
Played with Ballynahinch.

Presided at meeting winding up of Ballynahinch and founding of Drumaness.

Committee member Drumaness and representative to East Down Board.

Appointed Secretary to East Down Divisional Minor Football Sub Committee.

Elected Secretary of East Down Board.

Appointed selector of Down Minor team. This was a very successful time for the team which won the Ulster Minor League twice, the Ulster Minor Championship four times including 1966 when they got to the All Ireland Final but were beaten by Mayo. Six of that team went on to win the Senior All Ireland in 1968.

Chaired East Down Board for many terms.

Served on every County Committee except for 2 years when injured. During this time Harry chaired various sub-committees, including 3 years of the Activities Committee which deals with running the leagues and championships and dealing with disciplinary issues.

Harry is the driving force in East Down of the newly created Scór competitions.

Member of East Down and/or County Scór Committee, usually as Chairperson or Secretary.

Did his most important bit of work. Helped found the Club!

Becomes first Chairperson of the Club.

Part of the Senior management team.

Voted Club Person of the Year.

Steps down from Chairperson and becomes Club Secretary (joint Secretary with Nuala McCartan 77-78)

Elected Chairperson of the County Board. Down Minors win the All Ireland for the first time.

Harry represents Down at the Ulster Council.

Sits on Ulster Scór Committee, serves 3 years as Chairperson and 13 years as Secretary.

Elected Chairperson of the East Down Board, a post he held for 25 years from 1981-1996.

Elected Treasurer of County Board and began the process of rationalizing the many different accounts.

Carryduff Ballad Group wins the All Ireland Scór title.

Serves a further 2 years as Club Chairperson.

Carryduff wins Centenary Scór Down Club of the Year

Harry serves a third stint as Club Chairperson.

Ulster

 representative on Central Scór Committee in Croke Park. Played central role in bringing All Ireland Senior Scór Final to the Ulster Hall, Belfast in 1999 & 2000 and in the events organization.

The first time since the Club's foundation that Harry didn't sit on the Executive Committee and only then because a serious knee injury (picked up on GAA duty!) reduced his mobility.

Harry is still serving the Club on the Executive Committee and Chairing the Cultural Sub Committee.

Attends the opening of Páirc Aodha Dhuibh as a Guest of Honour of the Club

Harry is the recipient of a Long Service Award from GAA President Aogán O Fearghail for his unwaning contribution to Scór

Harry remains an avid supporter of all-things Carryduff GAC and is amongst the first to congratulate all competitors in the club for their achievements throughout the season