Final Preparations for our U14 girls'
Carryduff GAC U14 Girls are ready for Féile!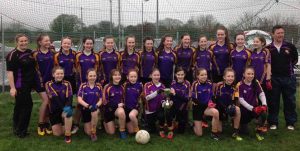 Our U14 girls' team along with their coaches Aidan Morris & Donnla Fisher will travel to Féile in Mullagh, Co. Cavan on Friday 23rd June. Since winning the Down Féile against Bosco GAC in April, the girls have been focused on the Féile by training hard and their coaches have shown incredible commitment (as ever) to the team.
Final Preparations
Their final match preparations finished on Tuesday night, with a very physical match against Gort na Mona, who pushed the girls hard in a tough, end to end battle. We've no doubt that our U14 girls can expect an equally tough, physical & demanding series of matches over the course of the weekend in Cavan! However, these girls are fit, skillful and determined to succeed and we wish them every success in this tournament.
Feile League Matches
The girls will begin their Feile campaign on Friday evening at 17.45 pm at Cuchulainns CLG in Mullagh against a strong Edenderry team, who convincingly won the Offally Féile. Immediately after this match, Carryduff will face the Cavan Gaels, who possess a number of county players on their much-fancied squad. Our final league game is on Saturday morning against our hosts, Cuchulainns at 10:00 am and our next matches will be determined by our overall standing in the League. We hope that a combination of determination from the girls, advice and encouragement from the coaches and vocal support from the parents and supports will help our girls to excel in these league matches!
Our Sponsors
We would like to take the opportunity to thank our main sponsors Bluesky Dentistry (http://www.blueskydentist.com) and to Premier Scientific (http://www.premierscientific.co.uk) who also sponsored the shirts. Thanks also to the Burnview Group (http://www.burnviewgroup.com) and McGrady Insurance (http://www.mcgradyinsurance.co.uk) who co-sponsored the kit bags. With your sponsorship you made the job of fundraising so much easier. We would finally like to thank Lakeside Autos (http://www.lakesideautos.co.uk) and Specsavers (https://www.specsavers.co.uk/stores/belfast) for their generous donations to our fundraising. We hope that parents will consider supporting each of the sponsors as a result of their generosity to our girls.
Our Parents
The parents of each and every girl deserve credit for all of the support & effort they have put in throughout the year, but especially since we won the Down Féile in April. Each parent contributed in whatever way they could and their team effort ensured that the fundraising ran without a hitch. So, to the parents who organized or contributed to each and every one of the fundraising events, we thank you. You've all, as a team, helped in so many ways and the fruits of your labours were realised when the girls received their kits on Tuesday night! So if you helped in selling literally hundreds of ballot tickets, or contributed to raising money at the bag pack in Dobbies we thank you. Similarly, if you donated money or helped secure brilliant sponsorship deals for the kit and kit bags we again thank you. If you contributed to the Cash4Clobber clear out, attended the Poker Night, obtained gifts for the hosts or helped us obtain match funding, we say a huge thank you. Without you, our parents, we wouldn't have the children to make up our wonderful team, nor would we have such a massive support structure for the entire squad!